A Look at the 2018 Buick Regal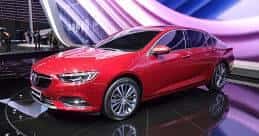 The Buick Regal is coming back to the United States next year with several enticing changes and upgrades. Since the model is already out internationally, we know exactly what to expect when the Regal hits our shores. Take a look at what's new with the upcoming model.
Bodies and Exterior
The 2018 Buick Regal has dropped its sedan model. In what seems to be a shift toward practicality mixed with luxury, the Regal will come in two forms: a five-door hatchback called the Sportback, and an extended all-wheel-drive wagon called the TourX. There will be three trim levels: the base, Preferred, and Essence. Each will add more interior features and exterior standard highlights.
Designed in Germany, the Regal has had a lot more athletic lines sculpted into its sides and other parts of the body. The 2018 version looks crisper, not as ineffectually rounded as the 2017 version while still nicely balanced. The wheelbase is three inches longer, and this change is most apparent in the TourX. The changes aren't just for visual appeal, either, as they cut the vehicle's weight by 200 pounds to improve efficiency and handling.
Performance
Both models use a 2.0-liter four-cylinder engine with 250 horsepower and fuel-saving automatic start/stop functionality. In front-wheel drive it has 260 pound-feet of torque, while all-wheel-drive bumps it to 295 pound-feet. The Sportback is engaging in either front-wheel drive or the available dual-clutch all-wheel drive system, while the TourX has deeply car-like mechanics as well despite its long body. Fuel efficiency testing is not completed, but Buick notes the changes should be more than enough to improve ratings over the 2017 sedan.
Technology and Interior
The expanded wheelbase allows for that much more room in the second row, and the front was equally changed with cleaner lines and an overall simpler look. There is also more soundproofing, which reduces the cabin noise from engine revving, rain, and other sources of clamor. Buick IntelliLink infotainment with a 7-inch infotainment screen and OnStar telematics with a Wi-Fi hotspot are all standard.
Sportback Regal models will have 31.5 cubic feet of cargo space at the least, which expands to 60.7 cubic feet with the large rear seats folded down. The TourX is similar, with 32.7 cubic feet that expand to 73.5 cubic feet with the rear seats down. The TourX also comes with a hands-free power liftgate.
Safety
The 2018 Regal will have ten air bags, a backup camera, and the emergency services included with OnStar standard, plus a new active hood pedestrian-detecting system. Drivers can opt for the Driver Confidence I and II packages for rear park assist, blind-spot monitoring, automatic emergency braking, forward collision warnings, adaptive cruise control, and other up-to-date automatic driver aids.
Buick describes this 2018 Regal as "Attainable Luxur." It is expected to hit dealerships all over the United States late in 2017, which could make it a great holiday gift to yourself or someone who has wanted a new, top-quality vehicle. When that time comes, be sure to contact us and we'll be happy to get you the model you want and the best deal possible.