3 Top Reasons to Consider a 2017 Buick Enclave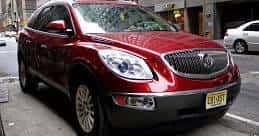 Shopping for a new vehicle can cause a lot of stress because many buyers don't know what models match their needs. With so many SUVs on the market, it's difficult to choose the perfect option for your family. Before you buy anything, consider these top three reasons for owning a 2017 Buick Enclave.
You Need a Lot of Space for Passengers and Cargo
The 2017 Buick Enclave has a lot of cabin space that makes it possible to seat up to eight passengers. With more than 150 cubic inches of passenger space, you can fill every seat without making anyone uncomfortable. The third row of seats offers the least volume, so you should put your smallest passengers there. Even most teenagers, however, will feel happy in the back.
You will also find more than enough cargo space behind the third row of seats. You get so much room that you can easily haul groceries and sports equipment at the same time. If you enjoy road trips and camping, then the 2017 Enclave is one of the best SUVs for you. No matter how much camping gear you stow in the back, it feels like you never run out of room.
You Demand Excellent Safety Features
Buick loads the 2017 Enclave with features that will keep you and your passengers safe. Standard features include antilock brakes, traction control, stability control, rear parking sensors, and a rearview camera. If you upgrade to the Leather or Premium trims, you also get a blind-spot warning system and rear cross traffic alert to help you avoid collisions.
Unfortunately, sometimes accidents happen. The Enclave keeps your passengers safe with side curtain airbags and front seat side airbags.
The National Highway Traffic Safety Administration agrees that the Enclave offers terrific safety features. The organization awards the 2017 SUV its highest rating in overall safety, frontal crash protection, and side crash protection. According to the experts, you can't find an SUV that's much safer than the Enclave.
You Want to Spend a Reasonable Amount of Money
Large SUVs can cost a lot of money. Buick gives you three trim levels so you can choose the option that fits into your budget. The entry-level Convenience version starts at $39,065. That's a great price for an SUV that comes with a 3.6-liter V6 engine, tri-zone automatic climate control, 19-inch alloy wheels, and an eight-way power driver seat.
The Leather trim level starts at $43,765. By paying a little more, you get leather upholstery, heated front seats, and a heated steering wheel.
The Premium trim starts at $47,625. If that sounds a little pricey, consider that you get 19-inch chrome-clad alloy wheels, ventilated front seats, a navigation system, and a 10-speaker Bose sound system.
If you want a spacious SUV with excellent safety features at a reasonable price, then the 2017 Buick Enclave will probably work for you. Contact your Buick dealership to schedule a test drive. Once you experience the Enclave, you will know whether you want to add it to your family.