4 Horse Farm Tours in Paris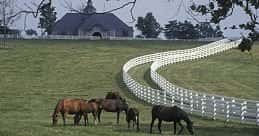 Do you love horses? If so, there are a few places in and near Paris, Kentucky, that give you the opportunity of associating with horses. Here are some of those places along with what opportunities they provide.
Claiborne Farm
The Claiborne Farm has been in operation for over a century and focuses on thoroughbreds. Take a tour of the farm where you can visit the breeding shed, out of which 80 champion racehorses have come. Explore the iconic stallion barns where these amazing horses grew up and where champion stallions live today. You'll have the chance to meet current champions and learn more about them.
You can join a guided tour seven days a week at 10 and 11 a.m. On Saturdays at noon is a Runhappy tour where you get to meet the champions. Tours meet in the Visitor Center, and because it's a working farm, they do ask that visitors are prompt and that you don't try to visit the farm outside of tour times.
Runnymede Farm
As the oldest continuously owned thoroughbred farm in Kentucky, Runnymede Farm has been in operation since 1867. You'll get a chance to explore the farm, including seeing some of the current champions. The tours include tales of Civil War intrigue, exploring 18th and 19th-century buildings, and learning about notable champions. Tickets are $20 for adults and $11 for children 12 and under. Tours are available on Thursday and Friday mornings at 11:15 a.m. and last an hour.
Horse Farm Tours
In nearby Lexington is Horse Farm Tours. This company takes you on a tour of different horse farms in the area. The tour lasts three hours, including driving by world-famous Calumet Farm. Learn about what made this farm so famous, with history going back to the 1940s and '50s. Also included is a walking tour of Keeneland Race Course. Morning tours include watching the horses do their morning workouts.
Morning tours are from 8:15 a.m. to 12:15 p.m. while afternoon tours are from 12:45 to 4:15 p.m. The cost is $36 for adults, $34 for seniors, and $26 for children 12 and under. Bring car seats with you for children who need them.
The Thoroughbred Center
Here you can get a behind-the-scenes look at what it's like to care for thoroughbred horses, from training to daily care. You can watch the horses' morning workouts, get up close to the track, and visit the horses in their stalls. Professionals are on hand to answer your questions.
Tours are scheduled daily at 9 a.m. and are about 90 minutes long. No self-guided tours are allowed. The cost is $15 per adult and $8 per child ages 3 to 12. Kids 2 and under are free. There is limited space in the tours, so it's best to reserve your spot. If you plan to visit during the off-season, you'll need to have at least four people on the tour to ensure the tour proceeds as planned.
If you've always been curious about champion horses, now is the time to learn more about these magnificent creatures.