6 Ways to Celebrate National Car Care Month
April is that time of the year when you give your Chevy Tahoe some extra care and attention.
The Car Care Council deems April as National Car Care Month to bring awareness about proper car care and maintenance. Across the country during April, people take proactive measures in keeping their vehicles well-maintained.
So, read on to learn how you can improve the dependability and safety of your car this National Car Care Month.

Why April?
April symbolizes the month when flowers, and trees, and people open.  It's a month when winter officially comes to a close, and you will soon be getting ready to take those long road-trips for holidays. However, before you head out on your spring road trip, make sure that your car is all revved up and ready to go.
How Can Car Owners Celebrate?
As a vehicle owner, take this opportunity to show your Chevy Tahoe some love this month:
Check Tire Pressure
The first thing you need to check is the tires. Frequently rotate your tires after driving 5,000 to 8,000 miles, to prevent uneven tread wear. Also check for any bulges, bald spots, or incorrect tire pressure.
You may have to align your tires depending on the wear and tread depth. Alternatively, if the tires are too worn out, it's time to buy a new set of tires. During this season, take advantage of attractive service deals at your dealership.
Check the Brake System
During winter, you may have used the brakes too often due to the icy roads. The snowy conditions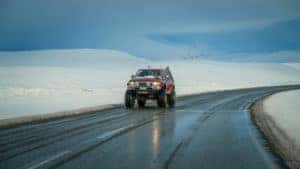 also might have caused delays on the freeways. Either way, you probably had to hit your brakes more often than usual.
Check if the brakes make a grinding noise or if your stopping distance has increased. If so, get your brakes serviced.
"Icy roads adversely affect the car's brakes due to the low friction between tires and the road."
Most people change their brake pads after driving 10,000-20,000 miles and rotors after 50,000-70,000 miles. For proper working of your brake system, you need an annual inspection schedule. Therefore, during National Car Care Month, schedule auto service without delay.
Attend to Small Repairs
You take good care of your Chevy Tahoe, paying attention to all the most significant elements. But have you checked for cracks in the windshield?
During wintertime, ice and dirt get onto your window and leave nasty stains. Rocks might have hit the windshield and left the tiniest of cracks, which go unnoticed if you don't look closely.
"Correct any minor issues without delay to avoid dangerous situations."
Any chips or cracks, when left unattended, can grow with changes in temperature. Furthermore, if not fixed, these repairs turn into major issues and might need replacement.

Check the Exhaust and Battery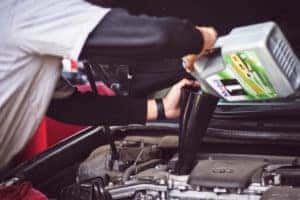 The exhaust system must be free of any leaks or broken parts like hangers. If you notice some unusual noise, it could indicate damage or leaks. Similarly, check for cracked or loose hoses and belts caused due to excessive wear.
Your battery may need to be replaced if it's not charging correctly. A timely battery check will tell you if the connection is corrosion-free, tight, and clean. Likewise, the steering and suspension system of your Chevy Tahoe must undergo annual inspections. So, this April, visit an auto care expert to keep your shock absorbers and other car components in good shape.
Change Your Car Fluids
Now is your chance to get a complete overhaul to your fuel and fluids. These include engine oil, brake and transmission fluids, antifreeze, and windshield washer solvent. Change the oil to increase the longevity of your car. This warm weather is suitable to get your hands dirty and do it yourself. Or, hire an auto care professional to perform the necessary inspections and change your fluids.
"Trained auto care experts have more experience in handling your car's special equipment."
Schedule Auto Service
There are only a few measures that you can take by yourself, but you need an expert to handle the significant repairs. Hence, do not forget to schedule auto service in time to check critical inspections like changing engine air filters, flushing coolant, inspecting steering and suspension or lubricating doors and hinges.
Simultaneously, get your exterior lighting checked for your safety on the road. Your worn wiper blades need replacement every six months, too. Keeping these in mind, get your car a tune-up and help your engine achieve fuel efficiency.
Take proper and timely care of your car to protect your investment. Additionally, you can also prevent significant repairs in the future.
Schedule Auto Service at Dan Cummins Chevrolet & Buick This Month
Even if there is a minor issue in your car, you do not want to ignore that as you drive on the slick, wet roads in the spring. Contact the staff of Dan Cummins Chevrolet Buick for a tune-up this National Car Care Month. Call us at 859-987-4345 today.

6 Ways to Celebrate National Car Care Month | Dan Cummins Chevrolet & Buick – Louisville, KY