Chevy Tahoe FAQs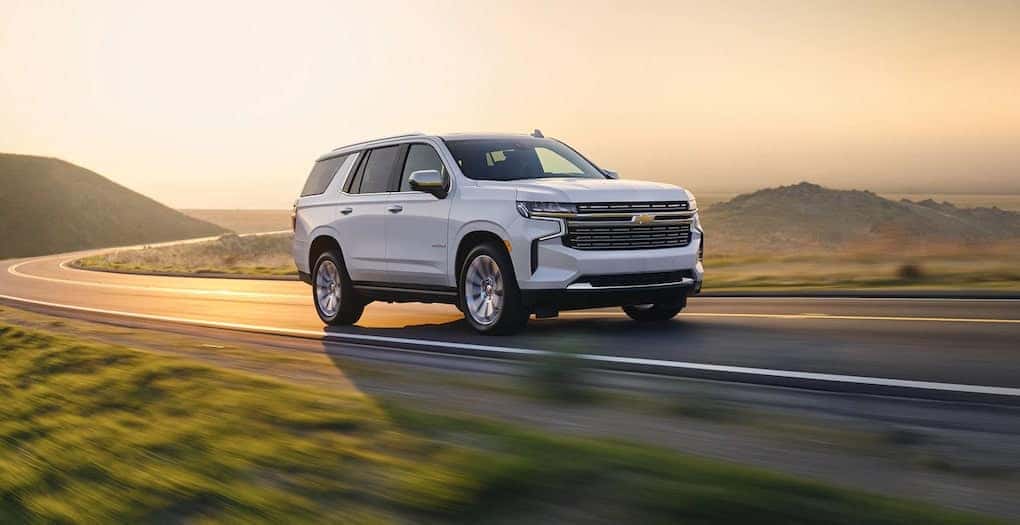 To help shoppers learn more about the newest edition of America's best selling full-size SUV, our in-house Chevy experts answered some of the most common questions about the 2021 Chevy Tahoe we hear at our dealership.
How Much Will The 2021 Tahoe Cost?
The 2021 Chevy Tahoe will start at $53,800.
SUV shoppers from Lexington and beyond can find exclusive savings on the 2021 Chevy Tahoe through our Chevy SUV lease specials.
When Can I Buy a 2021 Chevy Tahoe?
The 2021 Chevy Tahoe is currently available to purchase or lease at our dealership serving Lexington.
What Does The 2021 Chevy Tahoe Look Like?
If you like the look of the current Chevy Silverado, which received a redesign for 2020, you will take delight in the completely transformed 2021 Chevy Tahoe. The standard LED headlamps take direct cues from the Silverado playbook while the LED taillamps establish a uniquely commanding tone from the rear. Sitting atop wheels of up to 22 inches in diameter, the all-new 2021 Chevy Tahoe is not only more versatile and technologically advanced, but it's also more visually impressive.
How Big Is The 2021 Chevy Tahoe?
The 2021 Chevy Tahoe boasts an overall length of 210.7 inches, which is 6.7 inches more than the outgoing model. Your passengers will notice the difference with 42 inches of second-row and 34.9 inches of third-row legroom. Cargo volume also receives a substantial increase with 25.5 cubic feet of available storage behind the third row. All in all, the max cargo room expands to a best-in-class 122.9 cubic feet, which is 28.2 cubic feet more than the 2020 Chevy Tahoe.
Where Can I Buy The 2021 Chevy Tahoe?
Lexington, Covington, and Louisville area drivers can get behind the wheel of the all-new 2021 Chevy Tahoe at Dan Cummins in Paris, KY.
What's The Difference Between The 2021 Chevy Tahoe and Suburban?
The difference between the 2021 Chevy Tahoe and the Suburban stems from their price and size. The 2021 Chevy Suburban starts at $56,500, whereas the 2021 Chevy Tahoe starts at $53,800. For the higher price, you get 21.1 cubic feet of more cargo space and 1.8 inches of more third-row legroom in the 2021 Chevy Suburban than in the Tahoe.
Find Your 2021 Chevy Tahoe At Our Lexington Area Dealership
Interested in learning more about the 2021 Chevy Tahoe? Contact Dan Cummins today.