Coming Soon: The Redesigned 2016 Chevy Malibu
Chevy is shaking up the midsize sedan class with an all-new 2016 Chevy Malibu, rocking a much-anticipated makeover.
This ninth-generation Malibu looks more like a coupe than a sedan, featuring a sporty edge and upgraded technological innovations.
Check out this preview of what's to come and then get yourself over to your local Chevy dealer in Lexington, KY and get in line to be among the first to own the latest Chevy game changer.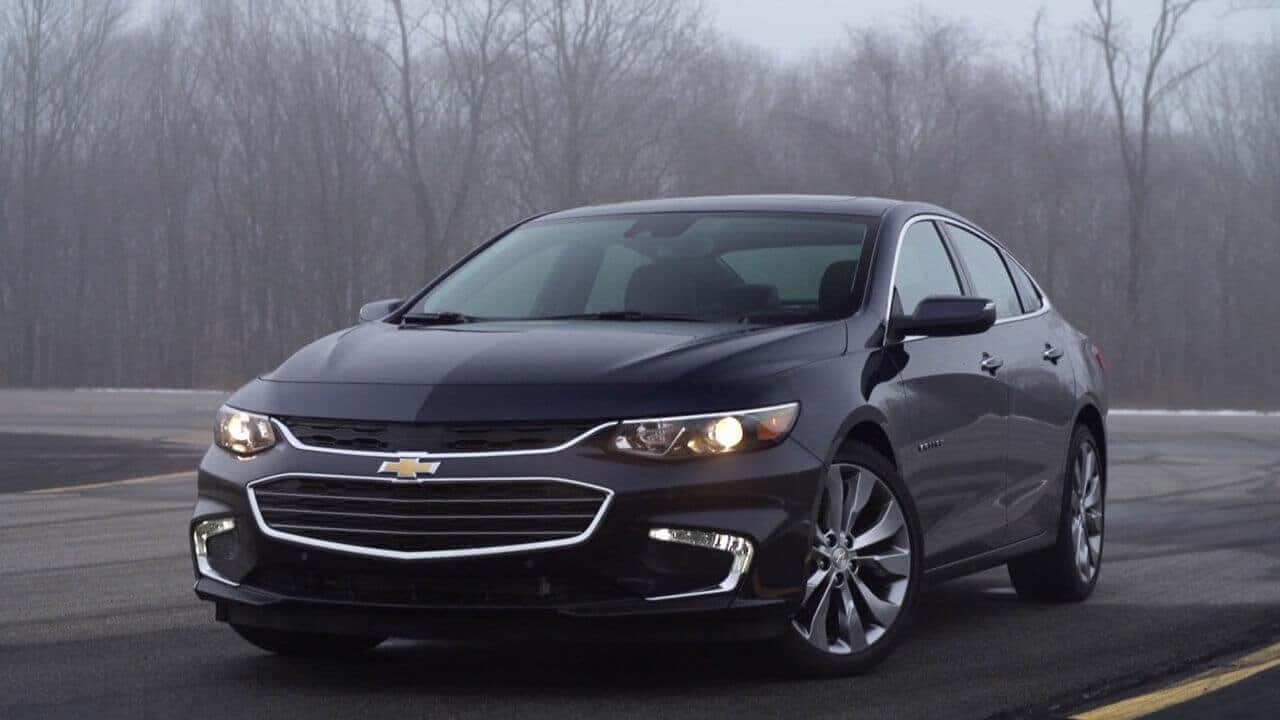 What's New for the 2016 Chevy Malibu?
All-new from the ground up, with a longer wheelbase for greater comfort
Nearly 300 pounds (136 kg) lighter than its predecessor
New Malibu Hybrid offering GM-estimated 48 mpg in city driving
Standard Ecotec 1.5L turbo engine with fuel-saving Stop/Start technology
Teen Driver feature offers driving statistics for parents
New Chevrolet MyLink with Android Auto and Apple CarPlay compatibility
MSRP of $22,500 (including destination)
Turning History on Its Head
First introduced in 1964, the Chevy Malibu has been an iconic member of the Chevy lineup for more than 50 years.  Spurred into action by its increasingly stylish sedan-class competitors, Chevy went back to the drawing board for 2016 and is poised to deliver a stunning redesign for the 2016 Malibu.
According to Jesse Ortega, chief engineer on the 2016 Malibu, "Midsize customers tell us they want great fuel economy, connected technologies, wrapped in a gorgeous exterior. This is exactly what the 2016 Malibu was engineered to do."
Built for Change
Supported by General Motors' all-new E2 front-drive architecture, the Malibu is slightly longer overall by 2.3 inches, owing in part to a wheelbase extended by 3.6 inches.
The 2016 Chevy Malibu will have slim, sweeping headlamps, a new version of the brand's dual-port grille, and three new body-side creases to add drama to the design and give the Malibu a more contemporary look.
Though it retains the width of its predecessor at 73.0 inches, the lowered cowl and hood make the new Malibu seem more robust.
Despite its slimmed-down look, backseat passengers will enjoy 1.3 extra inches of rear legroom, a very welcome upgrade after the pinched feel of the rear cabin, which the 2013 redesign did little to adjust.
Between the slimmer structure, more sculpted style, and roomier interior, the 2016 Malibu enjoys greater dynamics, no doubt evident in its performance.
New Drivetrains
Customers will get a choice between two engine options for the 2016 Malibu:
All-New Ecotec 1.5L turbo engine
2.0L turbocharged engine
An all-new Ecotec 1.5L turbo engine with stop/start technology will be standard in the 2016 Malibu and will contribute to awesome fuel efficiency – up to 37 mpg on the highway and 27 mpg in the city. The standard engine will deliver 160 hp and 184 lb.-ft. of torque, and work beside a six-speed automatic transmission.
You can choose to get a higher-output 2.0L turbocharged engine with an eight-speed automatic transmission instead, which will offer 250 hp and 258 lb.-ft. of torque. This engine is estimated 22 mpg in the city and 33 on the highway.
Those automotive journalists and reviewers who have been lucky enough to test drive this new Malibu report that its dual-motor electric power steering, new to this model, supports excellent precision behind the wheel.
Better fuel efficiency in a more precise drive bodes well for the 2016 Chevy Malibu's debut.
Still Committed to Safety
No matter how slinky or sporty the new 2016 Malibu might be, Chevy knows that the majority of sedan drivers are concerned with safety and choose sedans for that very reason.
Anyone interested in the best of the coupe and sedan worlds will be happy to know that the 2016 Malibu still comes standard with ten airbags and a wealth of advanced safety options.
Available features offered include:
Front Pedestrian Alert (Can apply automatic last-second braking)
New Lane Keep Assist with Lane Departure Warning
Side Blind Zone Alert with Lane Change Alert
New Forward Collision Alert with Following Distance Indicator
Rear Cross Traffic Alert
Front and Rear Park Assist
Intellibeam High Beams
Adaptive Cruise Control with Front Automatic Braking
Automatic Parking Assist
Though that's quite a list, it's just a quick overview of the protection this new Malibu offers its drivers and passengers.
If that wasn't enough, and just in case your teenager is eager to see you purchase a new Malibu for his or her own self-serving purposes, Chevy would like to introduce you to the all-new Teen Driver features.
Protected by a security pin of your own creation, this system monitors your teenager's driving habits and skills, when you're not in the car beside him or her. How? It tracks the driver's speed, reduces the maximum volume level on the audio system, and allows you to set speed limit warnings.
Any infractions or recklessness on the part of your teen will be recorded for your review.
While this likely drops the 2016 Malibu's cool quotient in your teenager's eyes, it surely just earned more respect from you.
And really, it wasn't designed with policing in mind, but as a technologically based, reliable method to encourage safe driving from your teenager.
Of course, you can come up with your own incentives to support this system, but the idea is that Chevy wants to inspire safety on the road, and that starts with the new generation of young drivers.
More Fun on a Trim by Trim Basis
Though pricing has not yet been announced for the 2016 Chevy Malibu, we do know that the car will be offered in four trim levels:
L: Although the L level is the base model, it does come standard with the 4G LTE connectivity with a wireless hotspot and three months of free data, as do all Malibu models.
LS: Moving up to the LS line, you'll see a rearview backup camera come standard, along with active grille shutters and a seven-inch infotainment screen, the smaller version compared to the newly available eight-inch screen, seen on the upper trim levels.
LT: The LT offers additional LED running lights, while the high-end, and aptly named, Premier level sports LED taillights, leather and ventilated seats, rear-seat USB ports, a 110-volt outlet, and a wireless phone charger.
Hybrid: This Malibu has the best fuel efficiency, offering you up to an EPA-estimated 46 mpg combined.
Premier: This is the top trim, which offers you the full suite of features, including automatic climate control, a navigation system, LED taillamps, an eight-inch touchscreen, a Bose audio system, and more.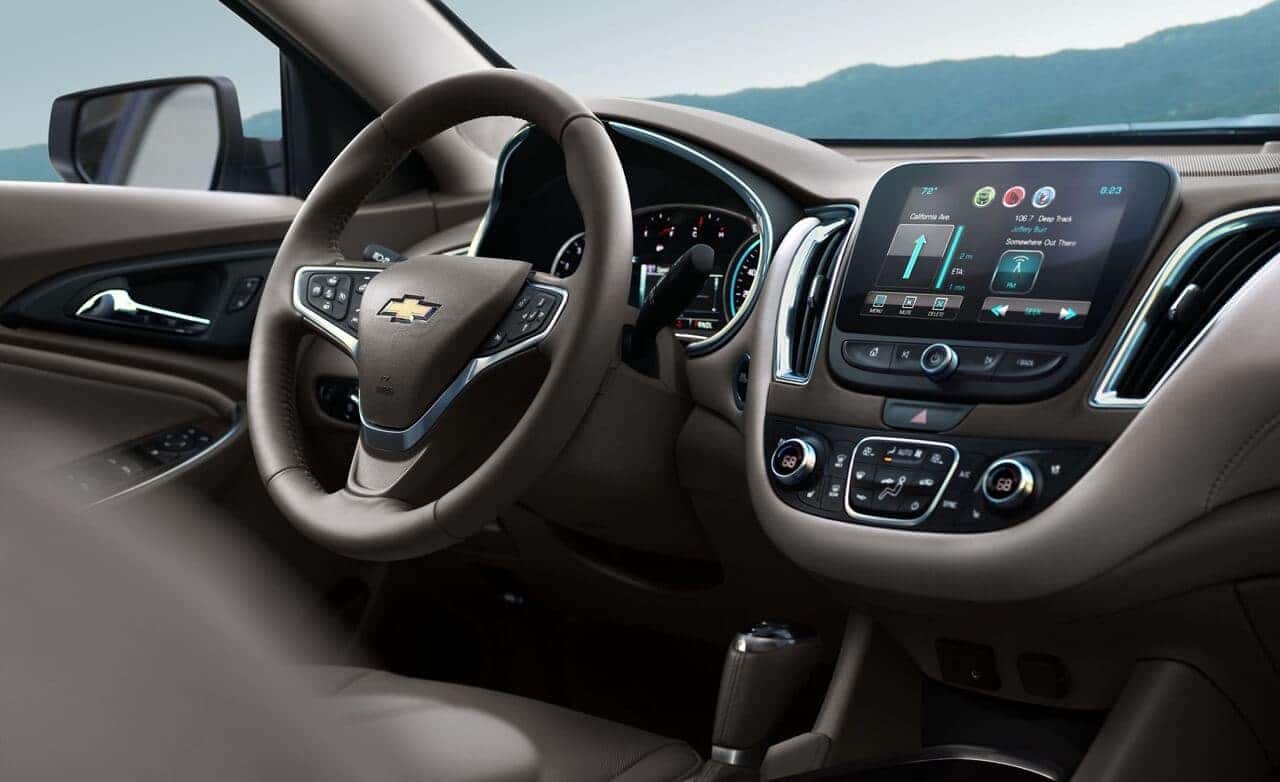 Whether base or Premier, the 2016 Chevy Malibu will exceed your expectations.
How About a Hybrid?
Sure! But not just a hybrid, a seriously fuel-efficient hybrid.
The new addition to the Malibu lineup, the Malibu Hybrid, will have outstanding fuel efficiency, thanks to an all-new hybrid powertrain that uses technology from the Chevy Volt to offer 48 mpg city and 45 mpg highway. This is unbelievably impressive, especially for the midsize sedan class.
The two-motor drive unit features a 1.8-liter four-cylinder engine, paired with an 80-cell 1.5 kWh lithium-ion battery pack and energy-saving regenerative braking.
Able to get 55 miles per hour on just electric power, the Chevy Malibu hybrid generates 182 horsepower and can zip from zero to sixty miles per hour in 7.8 seconds.
There is already lots of excitement surrounding this hybrid alternative, and you can expect the 2016 Malibu Hybrid to give the others an unexpected run for their money.
The 2016 Chevy Malibu is certainly going to prove that it was worth the wait.