Cool Interior Features of the 2017 LaCrosse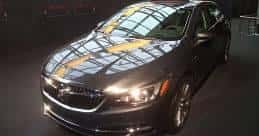 The Buick LaCrosse sedan was redesigned for 2017 and gained higher-quality cabin materials, more trunk space, improved ride quality, and new features. In particular, several interior features added for this year have made the LaCrosse a top model in its class. Here are some of the best new and returning interior features available on LaCrosse models.
Active Noise Cancellation
The Active Noise Cancellation system added to the LaCrosse helps keep the driving experience quieter than ever before. Designed to work in tandem with soundproofing, ANC detects undesirable sounds such as heavy rainfall and cancels them out with the vehicle's speaker system. It essentially uses the wave energy of the sound system to channel outward waves that push any unwanted incoming sound waves away. Now not only can a Buick wall off unwanted noises, but it can push them away for even greater efficacy.
New Center Console
For those who don't use voice commands, Buick has improved the center console in the 2017 LaCrosse. Buttons are large and spread out along the same width as the eight-inch Intellilink infotainment touchscreen, and it leans backward to create a bit more of an open feel. Unlike many systems from the competition, everything is truly centered, from the mid-point dial to the sunken area for the two USB ports. Controlling the Lacrosse's eight-speaker sound system, mobile phone apps, and other infotainment or audio functions are easier in ways that a discerning driver will appreciate.
Heated Steering Wheel
In cold weather, tire traction drops and driving becomes riskier. This is only made worse when the driver has cold, tense hands, but all 2017 LaCrosse models offer an available heating function for the steering wheel, which not only gives you the proper comfort and control during the winter but also feels terrific. On the topic of the steering wheel options, moving up to the middle Preferred trim level automatically adds power-adjustment, so you can change the position and tilt of the wheel to whatever seating style you want that day.
4G Wi-Fi Hotspot
On top of the advanced infotainment system, the LaCrosse can be upgraded with 4G Wi-Fi hotspot capability. Far stronger than the hotspots in lesser vehicles, the LaCrosse is capable of supporting a network of up to seven active devices at once. This feature has the reliability and signal strength to make the LaCrosse a swanky mobile office. Even if you don't use your vehicle for business, there's a sense of freedom when every passenger can look up what they need to independently.
These are only a few of the model's top features and options, and there are three different trim levels of this large luxury sedan to consider. From a configurable head-up-display to a seat-vibrator that alerts the driver if they're veering out of a lane, the LaCrosse is as well-equipped as it is fun to drive. If you're interested in getting a 2017 Buick LaCrosse for yourself, message, call, or visit us today.