Exclusively Paris : Happy People Coffee Co.
Happy People Coffee Company is on a mission to create, promote and celebrate happy people everywhere. Join Exclusively Paris for a cup of coffee and let's see what this place is all about!
After struggling for nearly a decade to find the perfect cup of coffee, Stephen Swisher decided to take matters into his own hands. Happy People Coffee Company, located on Main Street in Paris, KY, has over 50 varieties of coffee ranging from light to extremely dark. Much like us, each coffee is unique and has a story to tell. If you're a coffee connoisseur or just simply a fan of the bean juice, this is your happy place (pun intended).
If you're not a coffee lover, don't worry. Happy People Coffee Co. understands that for every coffee drinker out there, there are many more tea drinkers. On their shelves you will also find over 4 dozen varieties of loose leaf teas. Did you know that tea
is the most widely consumed beverage in the world, second only to water?
More important than their coffee and tea is their mission. Creating and promoting happy people. Providing the one coffee, one tea, one meal that will put a smile on your face.
They also love to give back to the community by supporting wonderful causes. By grabbing a cup of the Recovery blend you are helping support the Recovering Champions program, which helps those struggling to overcome addiction get the treatment that they need. Even the kids can help give back! A percentage of proceeds from every Happy Kids Cocoa is donated to No Kid Hungry
, Bourbon County chapter.
Stephen and his friendly staff will make sure you don't leave without a smile on your face.
If you aren't in the Paris, KY area you can still enjoy Happy People Coffee Company! Click here
to pick your favorite blends and have it shipped right to your front door.
If you're in Paris, you can order online here
for pickup or even delivery!
Either way you experience Happy People Coffee, we know you'll love it. Don't forget to tell them we sent you.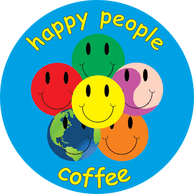 Did you know that each face in Happy People Coffee Co.'s logo has a significant meaning.
Yellow – Commitment to happy people.
Red – Love, compassion, community.
Orange – Happy Kids.
Green – Happy and healthy plates.
Yin & Yang – Promotion diversity.
Planet – Striving to be a waste free facility.