How Does the 2018 Silverado Compare to the 2017 Model?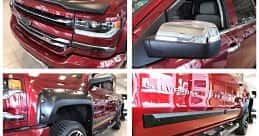 If you're considering buying a Chevrolet Silverado, you might be wondering whether to go ahead and buy a 2017 model or wait till the 2018 models come out. If so, here's what you need to know about how the 2017 and 2018 models differ from each other.
2018: What We Know
Before getting into what information General Motors has released about the 2018 model, know that it will likely go on sale in mid-August 2017. Information at the moment is fairly scarce on what changes General Motors will make on the 2018 Chevrolet Silverado, but you're sure to see more information as a release date is officially set.
The first thing you need to know about the 2018 model is that it's a carryover from 2017. Many anticipate that the 2019 model will be a complete redesign of the Silverado and, because of that, the 2018 model won't have many changes to it as General Motors anticipates releasing a newly designed model the following year. In fact, car websites are already reporting seeing 2019 models under wraps and being test driven.
Exterior
Overall, the exterior features of the Silverado will likely remain unchanged between the 2017 and 2018 models. It will keep its bulky shape that it's known for.
Motor
There are rumors that the 2018 Silverado 2500 model may have the option of a turbodiesel engine. Another rumor is that there will be an aluminum version that will help reduce the model's weight and help with fuel efficiency and emissions. If this is true, it will be released only with the full-size, four-wheel-drive version.
Pricing
For the most part, pricing is likely to remain constant from the 2017 models, so you can use that as a guide. The prices might increase slightly, but not enough for you to see a big difference. This means that regular cabs will start at $29,000 and trim levels with crew cabs will start at $37,000. If you move up to the highest trim levels, costs increase to $58,000.
Safety Features
Because the same safety features will be included on the 2018 Silverado, here's a list of safety features that you'll find in the 2017 Silverado:
Traction and stability control
Front, rear seat side, and side curtain airbags
Teen Driver watchdog
OnStar, which includes roadside assistance, automatic crash notification, stolen vehicle assistance, and remote door unlocking
Rearview camera
Front and rear parking sensors
Enhanced Driver Alert package, which includes lane departure warning and intervention and forward collision warning and emergency braking
Interior
Not only does the interior have high headroom for both front and rear passengers and comfortably seat five adults, there are other perks that make the 2017 Silverado comfortable. This includes many storage bins and cup holders along with USB ports for your devices. The infotainment center has a touchscreen, and the system works with Apple CarPlay and Android Auto. Options include heated and ventilated seats and adjustable lumbar support. The 2018 model is expected to have all of these same features.
Whether you choose a 2017 model or wait for a 2018 update, you're sure to have a truck you can rely on for years to come.