Meet the 2018 Traverse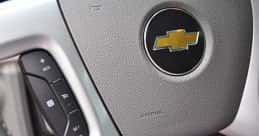 If you're considering buying the 2018 Chevrolet Traverse, here are some new features that will help get you excited.
Interior Comfort
The 2018 Traverse has a longer wheelbase than its predecessor. This means more room for passengers as well as smoothing out the ride. In addition to adding more room for passengers, this three-row SUV also adds what families today really need in an SUV: multiple USB ports, wireless charging, and an available Wi-Fi hotspot. Plus, the infotainment's screen has increased in size, from 6.5 inches to either a 7- or 8-inch touchscreen.
In total, eight passengers can fit in the Traverse. To create more room for hauling, the middle and rear row of seats fold forward to give you 98.5 cubic feet of cargo space. Under the floor in the rear is a hidden compartment where you can store additional items.
Exterior Design
General Motors engineers and designers updated the look of the Traverse for 2018. This includes a bigger grille, thinner headlights and taillights, and a squared-off hood. Overall, the round edges are now squared off. The highest trim includes chrome accents.
Improved Functionality
Looks aren't the only thing that has improved with this model. Towing capacity, fuel economy, and horsepower have also all improved. This is due to the 3.6-liter V6 engine with nine-speed transmission at around 300 horsepower.
If you want even better fuel economy, you can choose the 2.0-liter turbocharged four-cylinder engine. This may decrease your 0-to-60 speed, but it's worth it for fuel savings. The new Traverse increases fuel economy by 60 percent when in two-wheel drive.
New Technology
One great advantage to the 2018 Chevrolet Traverse is the new all-wheel drive system. You have the option of turning it off when you know you don't need it, such as on a dry summer day. But, once you need it you only have to press a button to engage the system. Use it when you need it, and turn it off when you don't.
Included in the all-wheel drive system is a highly customizable Traction Mode Select system. With this system, choose which traction mode makes the most sense. Settings include normal, towing, snow, and off-roading.
Safety Features
If you have a teen that is learning to drive or will drive your Traverse often, you'll be glad to know this vehicle comes with a Teen Driver system in every model. This standard feature includes things such as requiring the driver and passengers to buckle seatbelts in order to listen to music. You can monitor driving behaviors as well, so you know if your teenager is driving unsafely.
Available safety technologies include automatic braking, lane departure warning, and even a warning if you might have forgotten a passenger in the back seat. The hands-free liftgate is also a nice feature that keeps you from having to put items down to fish your keys out of pockets or purses.
The new 2018 Chevrolet Traverse offers noticeable improvements that are worth considering if you're in the market for a new vehicle.