New Silverado 1500 High Country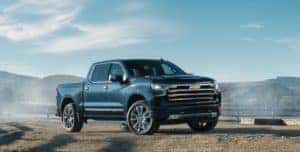 Are you in the market for a new truck that has all the utility of the truck you need, plus modern technology and a premium interior? If so, look no further.
The 2022 Chevrolet Silverado 1500 High Country is equipped with top-safety features, a beautiful, comfortable interior, a powerful engine, and GM's hands-free driving technology, Super Cruise.
How much can the Silverado High Country tow?
The Silverado 1500 High Country has a 6.2-liter V8 engine, with a 10-speed automatic transmission, 420 horsepower, 460 lb.-ft. of torque, and a tow rating of up to 9,700 pounds. The FWD combined city/highway fuel economy is 24 miles per gallon.
If you are looking for even more power, you can choose to go with the Silverado 2500, with a tow rating of 14,500 pounds, or the Silverado 3500, with a tow rating of 36,000 pounds.
What technology is included in the High Country?
You do not have to sacrifice modern technology for the functionality of a truck. The 2022 Silverado High Country has Google built-in, which features Google Assistant, a program that allows the driver to ask questions, send texts, access directions, change vehicle settings, and more, by simply saying, "Hey Google" or pressing the voice control button on the steering wheel. It also has Google Maps and Google Play.[1]
That's not the only innovative feature this truck has to offer. Silverado High Country drivers can use Super Cruise, Chevy's hands-free driving technology, on more than 200,000 miles of compatible roads in the U.S. and Canada. Super Cruise is functional with a trailer and has enhanced automatic emergency braking, lane-changing technology, and lane centering, which detects curves with live cameras, GPS, and sensors.
Super Cruise on the High Country also uses adaptive cruise control, where the driver can set a distance from a leading vehicle. To use Super Cruise, the driver must be on a compatible road, pay sufficient attention and meet all driving conditions (visible lane markings, available GPS tech, and no system faults).
If you are a music lover, you will enjoy the Bose Premium Sound System in the High Country, with seven speakers and a Richbass woofer. Bose has high-quality audio and speakers positioned throughout the cabin to guarantee rich, concert-like sound. You'll also have access to a 3-month trial subscription of SiriusXM, with exclusive channels, shows, and content for your entertainment.
The High Country dash is sleek and modern, with a 12.3-inch Driver Information Center and a huge 13.4-inch touchscreen display. It features real open-pore wood trim and leather seats – the comfort and style you deserve. It gives you several options to charge your devices, with four USB ports, two 120-volt power outlets, and wireless charging. To ensure you are comfortable as a passenger or driver, the 2022 High Country has dual-zone automatic climate control, heated/ventilated front and rear seats, and a heated steering wheel.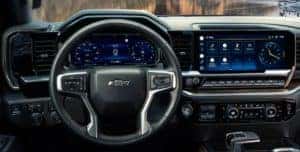 Is the 2022 Silverado 1500 High Country a safe vehicle?
The 2022 Silverado has a plethora of advanced features to keep you safe. It can display the time gap, in seconds, between you and the vehicle you are following, which allows you to decide if you are too close. It also has front pedestrian braking, which automatically provides or enhances hard emergency braking – a major step in avoiding or reducing the severity of a front-end collision with a pedestrian. In addition, the Silverado has HD Surround Vision (a digital overhead image of the area around the vehicle), OnStar and Chevy connected services compatibility, a tire pressure monitoring system, and truck bed-view and trailer cameras.
Perhaps the most useful safety feature of the Silverado, for parents, is the optional Teen Driver setting. Teen driver settings allow parents to monitor their kids' driving behavior without having to be in the vehicle with them. These settings include an in-car report card that parents can check, which monitors distance driven, maximum speed reached, Overspeed warnings, stability control, and traction control events, anti-lock brake events, forward collision alerts (if equipped), forward collision avoidance braking events (if equipped), tailgating alerts, and wide-open throttle events. Teen driver mode also features speed warnings, speed limiters, audio limits, and a setting to turn off the music until the driver wears a seat belt. These settings help to ensure your child is safe and protected when you cannot be in the car with them.
For additional peace of mind, the 2022 Silverado has Buckle to Drive, a setting designed to encourage drivers to wear their seatbelts before driving. If a driver tries to shift out of park and is not wearing a seatbelt, the setting will not allow the driver to shift until 20 seconds have passed, with audio and visual alerts.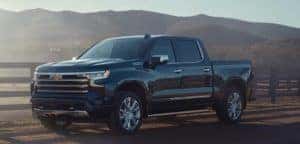 Is the High Country the best option for off-roading?
You can certainly take the High Country off-road, but the 2022 Silverado ZR2 would be the best choice for an off-roading Chevy truck. The ZR2 has an impressive 420-hp 6.2-liter V-8 engine, with a 31.8-degree approach angle and a maximum tow load of 8,900 pounds.
The ZR2 also has 33-inch Goodyear Wrangler Mud Terrain tires, an off-road cut front bumper, and large underbody aluminum skid plates to help you venture onto off-road trails, while Chevy Safety Assist and other technology help to keep you safe.
Or you could opt for the 2022 Silverado 1500 Custom Trail Boss, with a 2-inch factory suspension lift and Z71 Off-Road package, 18-inch high-gloss black-painted wheels, Goodyear Wrangler DuraTrac mud-terrain tires, and an Autotrac two-speed transfer case with automatic locking rear differential and skid plates.
Is there a fully electric alternative to the Silverado 1500?
Chevy will begin producing the Silverado EV in the second quarter of 2023. With up to 400 miles of range per charge and tech that can charge the battery to 100 miles of range in just 10 minutes, the 2024 Chevrolet Silverado EV is a solid choice. The truck has serious power–up to 664-hp and the capability to tow up to 10,000 pounds. For a more in-depth preview of what's featured in the 2024 Silverado EV click here.
What are all the trim levels and costs of the Silverado 1500?
The 2022 Silverado 1500 comes in nine trims, at various price levels[2]. The trims, from lowest to highest cost, are:
Work Truck (WT), starting at $33,800
Custom, starting at $40,800
LT, starting at $44,900
Custom Trail Boss, starting at $48,700
RST, starting at $49,100
LTZ, starting at $53,900
LT Trail Boss, starting at $54,500
High Country, starting at $59,800
ZR2, starting at $67,600
If you are interested in buying or learning more about the 2022 Silverado 1500, give us a call at (859) 987-4345 to speak with one of our trained professionals.
[1] Available when purchasing a premium, connected vehicle or a data plan.
[2] Pricing from https://www.chevrolet.com/trucks/silverado/1500