Reasons Why Lexington, KY, is Known as the Horse Capital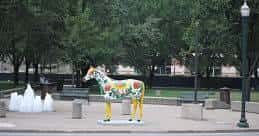 Lexington is well-known as the horse capital of the world. With over 400 horse farms, you can't go anywhere in town without finding a relevant piece of history that proves this fact all the more. Here are just a few of the many reasons Lexington is so connected to horses, breeding, riding, racing, and more.
Parks and Courses
Kentucky Horse Park is a 1,200-acre track and public gathering spot that draws about a million visitors annually. All sorts of horse breeds make their home here, including retired champions from some of the most illustrious events. Many Kentucky Derby winners stay active and social on the expansive, beautiful grounds. Then there's Keeneland Race Course, an unforgettably gorgeous track with meets in the spring and fall. If you're fascinated by everything horse-related, these places are worth many visits.
Impressive History
There is one horse for every 12 people living in Kentucky, and that ratio is thanks largely to Lexington's contribution. But back in 1798, the industry was so booming that there were actually more horses than people in Lexington. Lexington was also home to Isaac Murphy, an African-American jockey who competed in the Kentucky Derby 11 times and was the first jockey to win the Derby three times. These and other fascinating stories can be discovered at Kentucky Horse Park's museums.
World Equestrian Games
Lexington was the first city outside of Europe to host the World Equestrian Games in 2010, and it was an explosive debut. The attendance was massive, totalling over 507,000 tickets sold, 632 athletes, and 752 horses from 58 countries, and a record 27 teams competed in the diverse horse-based disciplines. Seventy percent of the tickets were purchased by those outside of Kentucky, whether in other United States or beyond.
Rankings and Stats
Lexington ranks #1 on the number of acres a city has devoted to the equine industry. Keeneland Race Course was also ranked the #1 thoroughbred racetrack in North America in 2009 by the Horseplayers Association of North America. Overall, the equine industry supplies 80,000 jobs in Kentucky, and the majority are situated in Lexington. Lexington is also one of the few places in the world with veterinary clinics just for horses, with 16 in total.
Terrific Environment
It's hard to think of a better place to raise horses in the United States than Lexington. The limestone shelf layer deep in the earth provides high mineral content and other nutrients to make the soil rich. This in turn gives the grass an exceptionally healthy growth rate, allowing it to serve as fodder for our many hungry steeds. On top of natural resources, Lexington also has only the finest care facilities, like Rood & Riddle, Davidson and McGee, the Gluck Equine Research Center, and Haygard. Each place researches ways to help horses live longer and happier lives.
The equine industry is the lifeblood of Lexington, and horses being sold for millions of dollars is a common occurence at major events like the Keeneland Sales auction. Our city owes much to these powerful creatures, and we're proud to be a place with some of the happiest and most accomplished horses in the world.