Top 2019 Corvette Events This Fall Season
Corvette enthusiasts: we know that you are eagerly looking forward to all the spectacular car shows lined up this Fall season.
Right from current Corvette automobile models, to debuts, concept, or modified and restored used Corvette, these events are on your must-see list.
So why wait?
Let us dive in and find out what are the upcoming Corvette events this fall.
The Corvette Funfest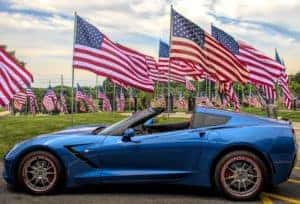 Scheduled from September 19-22, this mega event showcases Product Demos, Corvettes, and other big wigs in the Auto industry.
Organized by Mid America Motorworks, this four-day car will showcase Celebrity Choice Awards and Expert Seminars among others.
Here you can get to meet Corvette authors like Kevin Mackay and Mike Yager. Plus take home a copy of your favorite book with their inscribed personal message.
And the goodies don't stop here! At this 26th annual event, enjoy the live performance by "The Return," a Beatles tribute band, which is the band of this year.  Experience music like never before!
Address:
Mid America Motorworks
2900 North 3rd Street
Effingham, IL 62401
Dates:
September 19, 2019 – September 22, 2019
Timings:
09:00 am -06:00 pm
Contact the official Corvette Funfest website for tickets or register on-site at the event.
Looking to buy a Corvette? Check out the Corvettes for sale in KY on offer at Dan Cummins.
---
"While some car lovers like to flaunt their cool driving machines, others are excited to participate in shows that let them compete and win big."
---
The 2020 Corvette Mobile Tour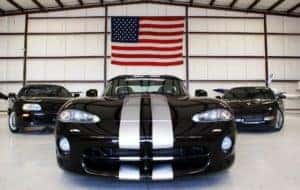 Featuring the 2020 Corvette, you have the event of the year with the 2020 Corvette Mobile Tour.
America's very own sports car is now going mid-engine for the first time. So stake your claim in this thunderous event while history is in the making.
With massive anticipation that surrounds the 2020 Corvette, an 8th in its generation, the event is not offering test drives in the US tour, but you get an opportunity to know the range of personalized options and customizations on the parts.
Enjoy the interactive displays of C8 model and get your questions answered by the car experts present on-site. Sign-up for this event hosted by Chevy Dude MikeDavenport.
And if the latest model is out of budget, do check out some used corvette for sale in Lexington, KY.
Address:
Bachman Chevrolet Chevy Dude
9650 Bluegrass Parkway
Louisville, Kentucky 40299
Dates:
Thursday- September 19, 2019
Timings:
11:00 am- 7:00 pm
---
"As a lover of classic cars, maybe you like to purchase a used Corvette."
---
2019 Punkin Chunkin Corvette Only Car Show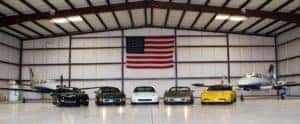 The 2019 Punkin Chunkin Corvette Only Car Show is the 4th annual to be held in the city of Aurora.
The event is a unique combination of cars on display, food, beer, and games. Here, you also get to experience pony rides, pumpkin patch, and fall crafts.
The show, designed to entertain people of all ages, also gives away great prizes to the winners and participants. The registration fee for entry is $20 for two people or one vehicle. Click here to know more.
Address:
Arapahoe Park Horse Track
26000 East Quincy Avenue
Aurora, CO  80016
Dates:
Saturday- September 21, 2019
Timings:
9:00 am
The Corvette Spectacular

The 16th annual car show in Los Altos displays Grand Sport #003 and a 2020 Corvette C8 this year, along with 165 Corvette models from 1953-2019.
In one of the biggest car shows on the West Coast, with over 180 entrants, Corvette Spectacular offers music, raffle, vendors, and games.
Enjoy the camaraderie of other Corvette owners as you take in the beauty of these enigmatic cars. Win awards, visit local restaurants, shopping malls, and more!
For participants, it is $35, but for spectators, entry is free. Pre-registrations are closed now, but you can call at (510) 913-4905 or visit the website for more details.
And for a wider range of selection of used Corvettes for sale in KY at our dealership; pick one that suits your needs.
Address:
Corvette Spectacular
Los Altos Village Association
88 Main St, Los Altos, CA, USA
Dates:
Sunday- September 22, 2019
Timings:
8:00 am- 4:00 pm
---
"Get an up-close look at the C8 and its new offerings."
---
2020 Corvette C8 Mobile Tour – Hendrick Chevrolet Shawnee Mission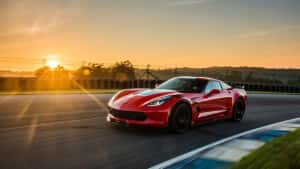 The much-awaited C8 has been a dream for years and rumored about in the auto scribe circles. After years of testing, design, and hard work, now, it is finally here!
It will take some time before this first-ever mid-engine Corvette for sale in Lexington, KY reaches the dealerships; until then we get to see it here before its official release.
Car fans, automotive journalists, and racing enthusiasts can, at last, get their eyes on the brand new 2020 Corvette.
Get an up-close look at the C8 and its new offerings in terms of performance, design, technology, and craftsmanship.
Vehicle specialists will engage with the host customers at the event and give you details about the new supercar and how you can personalize your own Corvette.
Address:
Hendrick Chevrolet Shawnee Mission
8300 Shawnee Mission Parkway
Merriam, KS 66202
Dates:
Sunday- September 22, 2019
Timings:
10:00 am- 05:00 pm
29th Annual Corvette Weekend
Nestled deep in the dense foliage of the Ozark Mountains, Arkansas, Eureka Springs welcomes you to the 29th Annual Corvette Weekend. Enjoy the natural springs, autumn scenery, and beautiful weather along with the most breathtaking car show.
Car lovers can participate in the Corvette events, win prizes, and enjoy the exhilarating drive through the challenging mountain paths.
Receive the Owners' Choice Awards Trophies at Pine Mountain. Walk-in visitors are welcome; and to register at this free event or for more info, visit the official website.
Address:
Eureka Springs
AR, 72632
Dates:
Thursday- October 3, 2019- Sunday- October 6, 2019
Timings:
10:00 am- 05:00 pm
At Dan Cummins, You Find the Best Used Corvettes for Your Needs
Whether you wish to buy a used Corvette or a brand new Corvette, our dealership is the place to be. Call Dan Cummins at (859) 987-4345 today and speak to our experts!

Top 2019 Corvette Events This Fall Season | Dan Cummins Chevrolet & Buick – Lexington, KY