Top 5 Used SUVs Under $20,000
So you're in the market for an SUV. You've recently found out that there will be another addition to your family.  Between your growing family, space and the dog who loves to take up as much of it as possible, your sports size coupe is no longer cutting it.
Opting for an SUV seems like the right choice but you don't want to break the bank either.  You've thought about used cars in Lexington before, but how do you know if getting a pre-owned SUV is the right choice?
Like most big ticket items, this is an investment and should treated as such.  Take the time to properly research and you'll find there are some definite advantages of buying used.
Advantages
First thing you'll notice is price.  Immediately, a used vehicle will cost less.  This is the biggest reason customers buy used cars.  With advancing technology improving the quality, condition and longevity of vehicles these days, customers know that even at two to three years old, you are getting a great quality vehicle.
You won't have to deal with depreciation because you weren't the first person to drive it off the lot.  Typically, new models lose over 40% of their value in the first two years.  After that it depreciates at about half that.  There is no depreciation with a used car.
Because you want to be as responsible as possible when purchasing your new used SUV, quality and price are your top concerns.  You want a good deal, but you don't want to compromise quality or comfort.  I have composed for you a list of Five SUVs priced under $20,000.
You'll notice all five of these SUV's are at least three years old so they are already depreciating at much slower rate.  They have still been rated with excellent reviews by all the top car dealer websites and magazines.  See which used SUV will be the right fit for you.
2012 Chevy Equinox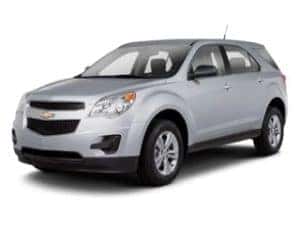 Getting an amazing 32 mpg hwy driving and 22 mpg city driving, this crossover SUV comes available with a choice of  engines.  You can either choose the a larger V6 with 3.0 liter engine or the 2.4 Liter 4 cylinder engine.
If you're looking for a full value, the 4 cylinder is going to cost less as well as give you better fuel economy, but if you know you'll need use of occasional towing, then the V6 would be your better bet.  The Equinox earned tops scores in all safety tests by the IIHS and federal government.
Because it's still a newer model, luxury items like remote starting, backup camera, heated seats all come equipped.  It boasts the most spacious rear seating in the bunch giving enough room to comfortably seat your family of five.  This newer crossover prices at the very top of the list because you are getting top quality and comfort and enjoying Chevrolet luxury at a value.
2010 Toyota Rav4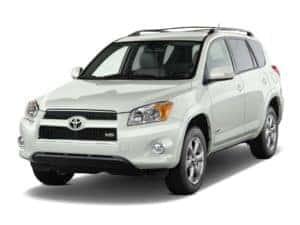 Also available with a V6 engine choice, the Rav4 is true to Toyota with reviews that put it at the top of the class.  One of the best I've read is that it drives like a car; feels custom built and perfectly integrated.  This compact SUV offers third row seating making room for 7 passengers, which is a comfort few other SUV's in this category share.
The Rav4 comes standard with a fuel economic 2.4 L 4 cylinder engine, but the choice for a V6 also exists boasting 269 horsepower.  Available in either front or all wheel drive, the Rav4 weighs in at 22 mpg for city driving and 28 highway driving.  The Rav4 also received a perfect score with JD Powers in reliability.
2010 Honda CRV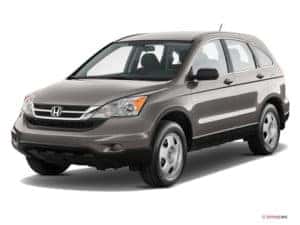 As the safety superstar, it has peaked in every reliable and safety ratings.  In fact, JD Powers gave it a perfect 5 score in its Power Circle Ratings.  The CRV lacks an option for a V6 engine, but its 22mpg city and 28 mpg highway driving more than make it up for it.  Also, it is available in both front and all wheel drive.
The CR V seats 5 comfortably and boasts some feature items like dual climate control and powered driver's seat.  Navigation system is available in some editions.  However, there have been few notable upgrades since its original debut in 2007.  What the CRV lacks in frills it more than makes up for in winning top safety and reliability awards.
2010 Chevy Traverse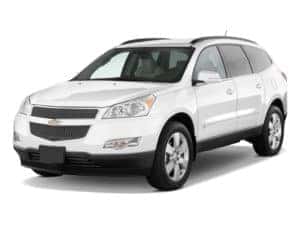 In it's maiden year, the 2010 Chevy Traverse was the crossover answer to the hole the Chevy Trailblazer left behind.  The styling moved towards the more sleek, sophisticated, clean lines of full size sedans than that of a chunky, boxy and outdated SUV's.
With tons of room to boast about, the Chevy Traverse also has the elusive third row and can comfortably seat a family of eight.  The base model is already a 3.6L V6 engine so power is not a concern here.  Nor is luxury.  Chevy wanted refinement and they got it right with the Traverse. With splashes of chrome throughout, items like leather interior, backseat DVD entertainment, navigation and a back-up camera have you feeling like you didn't buy used at all.
Because of the V6 it stays 17 mpg city driving and 24 mpg for highway.  Operating like a full size SUV with all the modern comfort of a full size sedan.  Even the 6 speed automatic gets praise for shifting gears with smooth prowess.
2009 Hyundai Santa Fe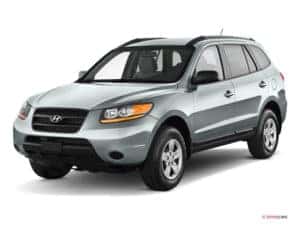 Strong yet unobtrusive in character, the 09 Santa Fe wins for most improved player.  Since its debut in '07, Hyundai's worked hard to better its' reputation in the U.S.  Offering more features like keyless entry, automatic climate control and satellite XM radio helped make the Hyundai Santa Fe stands out in the crowd.  Where it didn't need to improve was where it matters; the gas tank (aka: your wallet).
The Santa Fe's base model is a 185 horsepower V6 engine, 5 speed manual offering 17 mpg city driving and 24 mpg highway.  That's coming in way above average.  It is a top safety pick for IIHS and received highest ratings in frontal and side crash tests.  For a family SUV, the Santa Fe provides enough room for extra cargo space, saves you money at the gas station and at the dealership.
Probably one of the lesser expensive SUV's on this list, if safety and fuel efficiency are top picks for you, then the Sante Fe should be yours.
After taking a look at my list of used SUVs, it is easy to see why so many consumers choose newly used over brand new.  The technology embedded in these vehicles withstands throughout the years.  Improvements in safety and fuel economy have put these used SUV's in the top ranked positions.  Manufacturers delivering what the customers wants keeps them in the top spot.  With such perks in quality, it is no wonder that their resale value remains so high.
Still wondering what all the fuss is about?  Take that trip down to your local dealership.  Bring your family and start test driving and see what makes researching your next SUV so much fun!