Towing Capacity of the RAM 1500
When searching for RAM trucks in Lexington, you want a vehicle that allows crossing any hurdle.
Welcome the 2019 RAM 1500 that boasts of incredible performance, value, and payload capacities. As you uncover its luxurious features, including the right combination of efficiency, interior space, and amenities, there is one question that may come to mind: "How much can a RAM 1500 truck tow?"
The simple answer is — an impressive amount.
To learn more about the new RAM 1500, read on below and be blown away by its amazing specs and features.
RAM 1500 Towing Capacity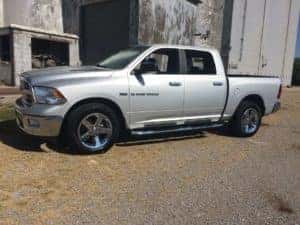 The redesigned RAM 1500 for 2019 model year is more powerful than ever before. With the proper equipment, the RAM 15oo can tow a maximum of 12,750 pounds and haul a weight of 2,300 pounds.
Even with such highly capable towing and payload numbers, the truck movement doesn't feel strained or damaged.
In any case, when you consider the max capacity standpoint, the numbers are the highest in their class.
---
"RAM moves easily even while pulling a heavy trailer."
---
No wonder the RAM 1500 was named one of the Top Full-Size Pickup Trucks this year.

Want to learn more about other full-size pickup trucks? Check out the collection of new and pre-owned vehicles available at Dan Cummins.
When the Cab Size Matters
Depending on what your workday requires, the 2019 Ram 1500 offers different cab options to satisfy your unique needs.

As you intend to get the maximum towing done, consider limiting the number of passengers to devote the truck's Gross Combined Vehicle Weight Rating to towing/payload.
The regular cab can seat up to three passengers, whereas the Quad cab seats six passengers for more exceptional towing, balance, and passenger comfort. However, the 2019 Crew Cab is much more extended, has reclining seats, and focuses on more room for passengers and storage. Hence, it might increase the curb weight of your truck.
Advanced Towing Features
The 2019 RAM 1500 is one of the best RAM trucks in Lexington you can find. This light-duty pickup truck not only uses its engine power but also has impressive towing features. These additional towing features help you tow a heavy camper or trailer with ease. Here are a few of these features:
Safety and Security
With the Blind Spot Monitoring system, you can see the blind spots behind you and maneuver safely. Furthermore, with the Rear Cross Path and Trailer Detection, it can automatically sense and account for the length of the trailer.
Largest-in-Class Brakes
Irrespective of how large your load is, the 14.9-inch brakes on your RAM 1500 account for more stopping power.
TorqueFlite® Transmission
The mild-hybrid eTorque system in combination with the TorqueFlite® Transmission helps the RAM 1500 get up to 17 mpg in the city and 23 mpg on the highway.
---
"Enjoy the advanced safety features in the new RAM 1500."
---
RAM 1500 Performance and Features
Engine and Gas Mileage
The RAM 1500 comes with a 3.6L V6 base engine producing 305 horsepower and 269 lb-ft of torque. When you upgrade it to the 5.7L Hemi V8 engine, you get 395 horsepower and 410 lb-ft of torque. For improved towing and hauling, the V8 engine is the better option.
The RAM 1500 fuel economy is estimated at 20 mpg in the city and 25 mpg on the highway with the V6 engine. With the Hemi V8, it is around 15 mpg and 22 mpg for the same.

Transmission and Axle Ratio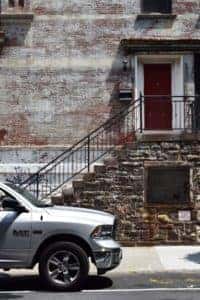 The RAM 1500 offers the Class-Exclusive TorqueFlite® 8-speed automatic transmissions. With a smooth-shifting automatic transmission, the truck shifts the gears automatically as needed. You can get the V8 engine even without the eTorque system if you prefer.
For all RAM trucks in Lexington and chassis cab pickups, ERS (Electronic Range Select) comes with automatic transmissions. With ERS, you can set the highest available gear and activate it in any driving condition.
For better towing power, you can choose a higher axle ratio, whereas a lower axle ratio gives you more engine efficiency and your vehicle runs more quietly.
The Wheel Drive System
RAM 1500 offers a two-wheel drive on all its models, whereas the RAM 1500 Rebel is available only with four-wheel drive. On the other hand, you can upgrade the RAM 1500 Tradesman to a four-wheel drive.
Typically, the curb weight of a two-wheel-drive truck will be lesser than a four-wheel drive vehicle, which means it has higher towing and payload capabilities. However, four-wheel-drive vehicles offer smoother rides and greater control when you drive on uneven surfaces.
Ride Quality and Off-Road Performance
The RAM 1500 offers excellent control, powerful braking, and smooth sailing under almost all circumstances. Whether it is a winding road or rough pavement, the truck poses no issues and offers you the best, most comfortable ride.
For off-roading, the RAM Rebel trim might be the right choice, and you can use the numerous features to improve its performance.
---
"When you have a pickup truck, there is no need to wait for the delivery guys to bring home your new furniture."
---
Should I Choose a New or Used RAM 1500?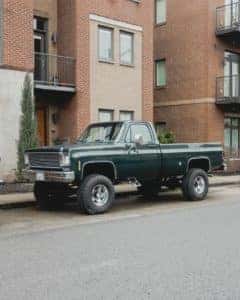 Although the 2018 RAM model is pretty impressive, comparatively, the RAM 1500 redesign for the 2019 model year sees many changes. The most significant jump we see is in its maximum towing and hauling capacities, which increase by about 20 percent.
Additionally, you'll find that the frame is much lighter; hence, the curb weight is lesser. There are also advanced options and mild hybrid systems to boost torque and efficiency.
You get a 12-inch touch screen, superior driver assistance and safety features, and wireless device charging with the new RAM 1500.
You could go with a pre-owned model, which has all the features you need at an affordable price.

If you're still considering buying a 2018 RAM or a used Chevrolet Silverado, make sure that you take a look at the inventory at Dan Cummins and get an auto loan in one easy step.
Check Out the Huge Inventory of RAM Trucks in Lexington and More at Dan Cummins
If you are planning to buy a powerful pickup truck for your towing needs, then shop at Dan Cummins. We understand that everyone's needs are different needs and we have the best RAM trucks in Lexington on offer. Call us at 859-987-4345 to discuss your requirements.

Towing Capacity of the RAM 1500 | Dan Cummins Chevrolet & Buick – Paris, KY