What to Buy: 2022 Chevrolet Corvette vs 2022 Chevrolet Camaro
When you think about high-performance, all-American sports cars, the Camaro and Corvette probably come to mind. Chevrolet manufactures both vehicles, but there are significant differences between the two. Read on to learn more about Corvettes and Camaros for sale in Kentucky.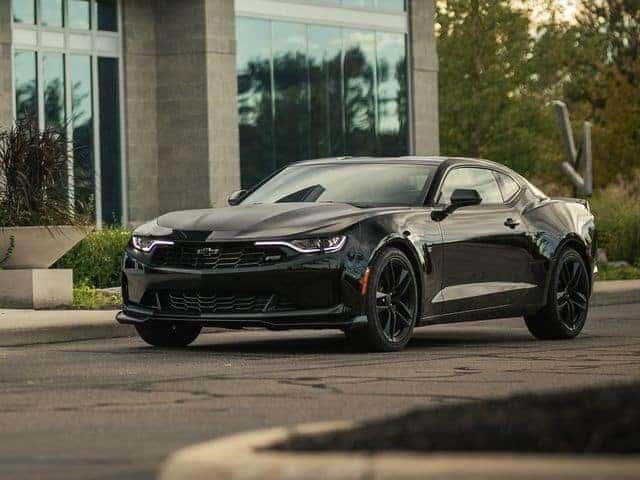 Engine and Transmission
Corvette
The 2022 Corvette engine is powerful, with up to 490 hp and 470 lb.-f.t. of torque.
The sole transmission is an eight-speed dual-clutch automatic controlled by a push-button gear selector on the center console or two large steering-wheel-mounted shift paddles.
New in 2023, the Corvette Z06 will feature a flat-plane V8, capable of 670 hp. It will hit a redline of 8600 rpm. That's 2000 rpm higher than the Stingray – making the Z06 the most powerful Corvette yet.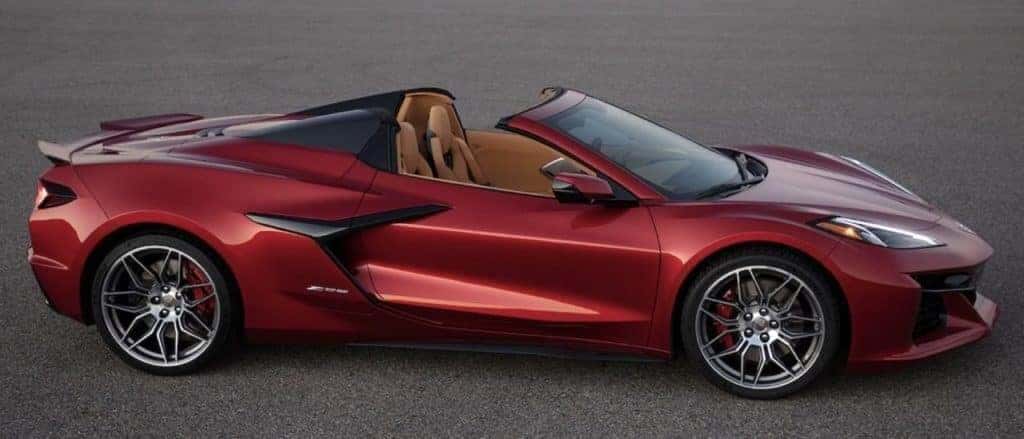 Camaro
The 2022 Camaro's best engine is in the ZL1 trim – a supercharged 6.2 liter V8 with 650 hp and 650 lb.-ft. of torque. The base engine is a turbocharged 2-liter 4-cylinder rated at 275 hp and 295 lb.-ft. of torque. You can also opt for a 6.2-liter engine with 455 hp and 455 lb.-ft. of torque on the LT1 and SS trims.
A six-speed manual transmission is standard, but the automatic transmission is more popular. You can also get an eight-speed automatic transmission with the 4-cylinder engine and a 10-speed with the V6 engine.
Performance
Performance-wise, the bottom range of the Corvette can compare with the top range Camaro.
The Corvette goes from zero to 60 mph in 2.8 seconds[1], while the top trim of the Camaro goes from zero to 60 mph in 3.4 seconds[2]. That's a mere 0.6 second time difference.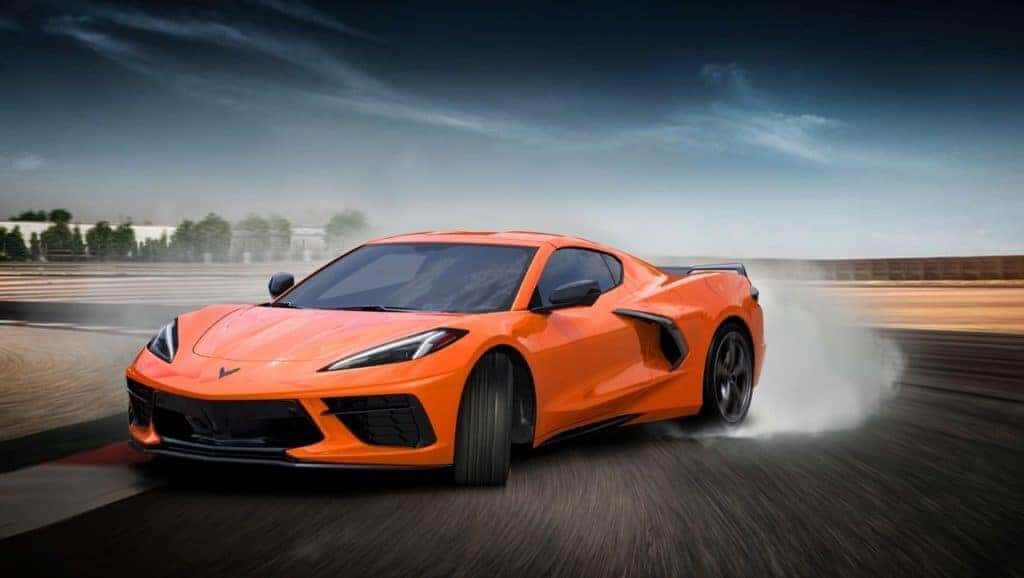 Price
The Corvette is significantly more expensive, with a starting price of $60,900[3]. The Camaro starts at $26,195.
To ensure you get the best price on a Corvette or Camaro in Kentucky, shop with us at Dan Cummins in Paris or Georgetown.
Interior, Space, and Technology
Comfortable seats, modern design, and modern accents enhance the interiors of both cars.
Technology
Both vehicles come standard with wireless Apple CarPlay and Android Auto.
The Corvette has a 12" driver information display, with an 8" infotainment touchscreen angled toward the driver. HD and satellite radio, proximity keyless entry, push-button start, remote start, and two USB ports are also standard on the 2022 Corvette.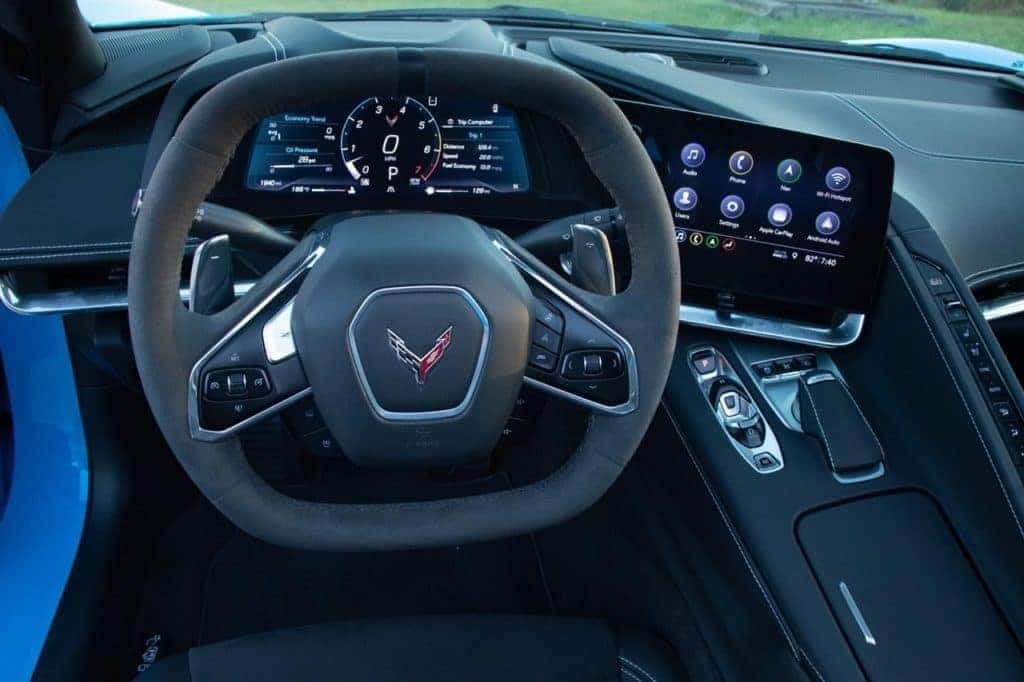 The entry-level infotainment display for the Camaro is 7". You can also upgrade to a higher-resolution 8" display in upper trims. Keyless entry, a heated leather steering wheel, single-zone automatic climate control, adjustable power seats with heating and cooling, and cruise control are standard on the 2022 Camaro.
Storage Space
Chevrolet decided to switch it up this year and move the engine of the Corvette behind the passenger compartment, allowing for more cargo space. There are two trunk areas– one in front of the passenger and another behind the engine, adding up to a total of 13 cu. ft. of storage. There is only one trunk in the Camaro, which gives 9 cu. ft. of storage space.
Body Style
The Camaro has seating for four people and comes in a convertible or coupe body style.
The Corvette is a true two-seater. The roof on the coupe can be removed, but the Corvette is also available as a convertible.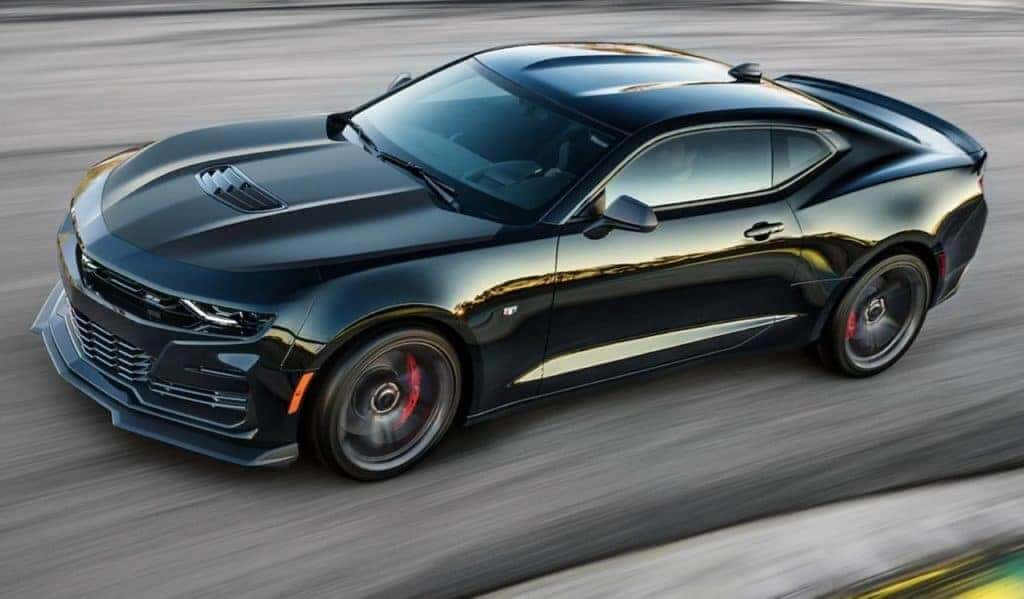 What's Next?
Once you have decided which vehicle is better for you, come visit our dealerships in Paris, KY, or Georgetown, KY to browse through our selection of new and used Camaros and Corvettes. Call us at (877)661-2805 today to learn more.
[1] https://www.caranddriver.com/chevrolet/corvette-2022
[2] https://www.caranddriver.com/chevrolet/camaro-zl1