What's New With the 2018 Equinox?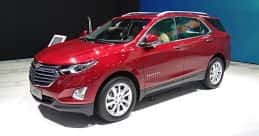 Crossovers have the fastest growing market share in the auto industry, so it's not surprising to hear that the Chevrolet Equinox is a hot commodity. General Motors has released the 2018 Equinox, and it's better than ever. Here's what you need to know about the new model.
Overall
This model year brings a 400-pound weight reduction from 2017's model. One of the biggest ways General Motors found to reduce weight was in the chassis, which lost 150 pounds on its own. Along with the chassis lightening, the whole frame is now stiffer by about 20 percent. One way that the engineers and designers did this was by increasing the anchor points from four to six, creating a solid base that the suspension can really react against, resulting in better handling.
Interior
One reason that crossovers are so popular is they have fuel economy closer to compacts and yet are so roomy inside with plenty of headspace. Though the length of the car decreased by 4.7 inches, the legroom only decreased by a fraction of an inch. Added to this model are air vents in the back seat. Optional add-ons include heated seats in the rear and additional USB ports. You can recline the back seat, which adds comfort to long car rides.
All seats feature two-tone styling that rival with luxury crossovers. Choose either black with brandy or black and gray interior. Or skip over the two-tone interior and go for all-black seats.
New Engine Options
The models released in spring of 2017 all have 1.5-liter turbocharged four-cylinder engines. The engine provides 170 horsepower and 203 lb-ft of torque and gives great fuel economy if you're looking for a commuter car that has room for carpool.
However, later this year, General Motors will release additional engine options. The next option will be a 2.0-liter turbocharged four-cylinder engine with 252 horsepower and 260 lb-ft of torque and a nine-speed automatic. This will be available this summer. The last option to be released will be a 1.6-liter turbo-diesel engine, which will have higher fuel economy and yet still have power, with 240 lb-ft of torque. This will be available late summer of 2017.
Great New Features
On LS, LT, and Premier models, you can take advantage of the all-wheel drive system. With all-wheel drive, you'll have greater traction when roads are slippery or covered in snow. What's great is you don't have to use all-wheel drive all the time. With the press of a button, you can turn it off, saving you fuel and wear on your tires. Additionally, if you have heavy loads to pull, you can press the tow/haul mode button, and the 2018 Equinox will automatically help, making it convenient.
The Equinox is equipped with a hands-free trunk release. This means you can engage the latch release even when your hands are full by just using your feet. You just need your keys in your pocket or nearby in order for it to work.
If you're looking for a crossover that has everything you need for the right price, check out the 2018 Chevrolet Equinox.