Why Should I Reserve a Silverado EV?
If you want to drive an electric vehicle, but do not want to sacrifice the utility of a truck, the Silverado EV would be an amazing choice for you. It will hit roads in 2024, but you can reserve yours today with Dan Cummins.
The Silverado EV uses General Motor's advanced Ultium EV platform, giving it versatile capability, powerful performance, and intuitive technology. The vice president of Chevrolet, Steve Hill, called the Ultium Platform a "critical enabler of next-level pickup truck performance for both fleet and retail customers, whether they are currently driving a Silverado or are considering a pickup for the first time."
Whether you are looking to add an EV to your commercial fleet or have an EV truck to drive on Lexington streets, let's do a deep dive into the features that make this game-changing truck so desirable.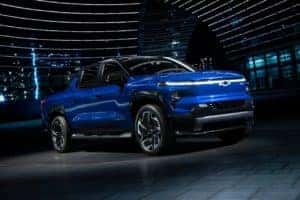 2024 Silverado EV RST
Silverado EV Range and Charging
Chevrolet estimates that the Silverado EV will have a range of up to 400 miles. Charging is made easy due to public DC fast-charging technology – adding 100 miles of range in only 10 minutes. When combined with the available accessory power bar, the Silverado will offer up to 10 outlets, providing a total of 10.2kW. You can use this to power almost anything, including your home. You can also charge another EV using the available accessory charge cord, allowing you to share your power when someone else is in need.
If you're looking to purchase the Silverado EV as a work truck, you'll gain access to the Ultium Charge 360 Fleet Service. This service offers one of the most all-inclusive charging solutions in the industry for businesses.
If you want to use the Silverado EV as a personal vehicle, you will have Ultium Charge 360, designed to give you access to more than 100,000 charging points in the U.S. and Canada and simplify the charging process.
Game-Changing, Powerful Performance
You'll be happy to learn that buying an all-electric truck does not mean you have to sacrifice powerful performance. The Silverado EV is powered by two electric motors, giving it up to a booming 664 hp with more than 780 lb.-ft. of torque[1]. GM estimates this will give a 0-60 mph time of fewer than 4.5 seconds. That's undeniably fast.
The RST model will have adaptive air suspension to help you comfortably maneuver over any terrain you encounter. It will automatically adjust your suspension to the road conditions, resulting in a non-bumpy ride. This feature can also adjust the height of your vehicle, helping you to enter and exit the vehicle easier. The Trail Boss trim will add locking differentials and all-terrain tires, making your next off-roading adventure on a Kentucky trail even easier.
Chevrolet will also offer an electric four-wheel drive system, capable of delivering torque to all four wheels almost instantaneously, and four-wheel steering for a tighter turning radius.
The Silverado EV will have you covered if you want to be able to tow your boat to a nearby Kentucky lake. The RST trim will have a maximum towing capacity of 10,000 lb. and the WT will have 8,000 lb. max towing. Each capacity is more than enough for your adventures, but Chevrolet has also teased a maximum towing capacity of 20,000 lb. for the 2025 model.
A Modern, Luxurious Interior
The interior of the Silverado EV has an all-new look. As soon as you step into the Silverado EV, it will recognize you through a device and turn itself on. The traditional dash of the Silverado has been replaced by a sloping dash and two huge screens – an 11" driver information screen and a 17" infotainment system. The EV will also have a heads-up display with a 14" field of view. It will still have some physical buttons for the driver's ease of use, including the volume and HVAC controls.
Chevrolet did not fall short on storage for the Silverado EV. They mounted the shifter stalk to the column, allowing for a massive seven-gallon storage bin between the dashboard and the middle armrest. Because there is nothing under the hood, Chevrolet added an e-trunk – a lockable, weatherproof compartment to fit whatever you need to keep safe.
The rear seat was moved forward from the traditional Silverado, helping to ensure anyone over six feet tall will still be comfortable in the back seat and have plenty of legroom. Back seat passengers also have their own HVAC system and heated seats on the RST trim.
The Silverado EV has a fixed glass roof, which lets you have a full view of the sky, while also being protected from UV and heat from the tinted glass and improving outward visibility. The traditional leather choices were dropped and replaced by sustainable and easy-to-clean materials such as vinyl and PVC.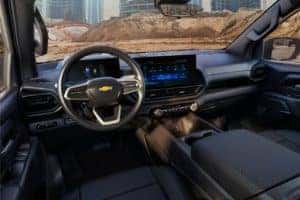 A Futuristic Exterior
The Silverado EV truly looks like a truck of the future. It has an attractive, aerodynamic design that gives it one of the lowest drag coefficients of any available production full-size pickup truck[2]. It will be available exclusively in Crew Cab models, which has a short front overhang, giving it more spaciousness on the interior and better forward down vision.
The bed is 5'11" on the RST with the multi-flex midgate, with four 120-volt AC outlets and one 240-volt AC outlet, making the truck bed truly useful and functional. When you add the available Multi-Flex tailgate, you can get even more space in the truck bed, with the storage capability going up to 10'10". A tonneau cover is also available, which allows items to be loaded into a lockable, weatherproof storage compartment.
With the functionality, plus the futuristic design of the exterior, you will ride in style in the Silverado EV, no matter if you're on a Lexington/Louisville city street or a country road in Kentucky.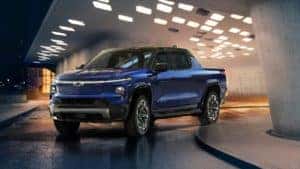 2024 Silverado EV RST
Innovative Infotainment System and Technology
The Silverado EV does not disappoint when it comes to technology. The dash is mostly digital, with a 17" diagonal LCD freeform infotainment screen and an 11" reconfigurable driver information center. The infotainment system has Google apps, navigation, and natural language voice commands built in. Apple CarPlay and Android Auto are standard, with in-dash navigation, Sirius XM satellite radio, and an onboard Wi-Fi hotspot.
The Silverado EV will get frequent software updates through Ultifi, a new Linux-based software program developed in-house at GM. This software will allow the driver to keep their vehicle up to date in a flexible and fast way.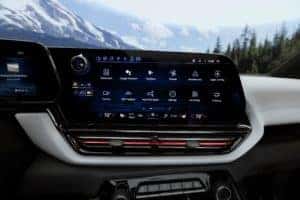 2024 Silverado EV RST
Revolutionary Hands-Free Technology
The Silverado EV also has GM's Super Cruise, which allows you to drive hands-free on more than 200,000 miles of compatible roads in the U.S. and Canada. It functions using Chevrolet Connected Services[3] and uses a real-time positioning camera, sensors, and LiDAR map data to locate curves in the road. It also includes a multitude of driver assistance tech, including adaptive cruise control, enhanced automatic emergency braking, and lane centering.
A Plethora of Safety Features
The Silverado EV was designed with your and your passengers' safety in mind. Every Silverado EV comes standard with Chevy Safety Assist, a package that includes automatic emergency braking, front pedestrian braking, lane keep assist with lane departure warning, forward collision alert, IntelliBeam high beam assist, and a following distance indicator. In addition, there is a variety of available safety features, which include:
Safety alert seat uses left, right, or both-side driver seat vibration pulses to help drivers identify the direction of potential crashes so they can act easily. The driver can also choose to add beeping crash avoidance alerts.
Rear cross-traffic braking can help to avoid or reduce the severity of backing collisions with detected left or right cross traffic behind your vehicle while it's in reverse. This feature provides alerts and can automatically provide emergency braking if a driver has not already braked.
HD Surround Vision uses multiple cameras to display a digital overhead image of the area around your vehicle, along with a Rear Vision camera or front views. This works at low speeds and helps the driver to park and avoid nearby objects. Additional views on your camera display are also available.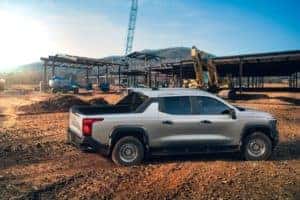 2024 Silverado EV WT
How do I reserve a Silverado EV?
With all the features, you can see why everyone is talking about the first-ever, all-electric, revolutionary Silverado EV. If you're interested in reserving one for yourself, click here.
[1] In the available max power Wide Open Watts mode on the RST
[2] From https://media.chevrolet.com/media/us/en/chevrolet/vehicles/silverado-ev/2024.html
[3] 3 years of connectivity included with purchase, after which an eligible paid Connected Services plan is required.