Chevy Silverado VS F-150 New & Used
The Chevrolet Silverado and the Ford F-Series, are two pickup trucks that have been in a neck-and-neck tie for the best-selling vehicle in America, for nearly thirty years. Ford's pickup truck may have beat out the Silverado, number wise, for quite some time – but the Silverado is truly a better overall value.
Whether you are purchasing a brand new Silverado, or a used version, used car dealerships in Lexington, KY have you covered. Check out your complete guide to the Chevrolet Silverado pickup, and why it is a better overall value than the Ford F-Series, in both new and used form.
History of the Silverado

General Motors has been building and manufacturing its most popular vehicle since 1999. The Silverado is currently in its third generation, and has been available in many trim levels and model types since it was first introduced. The Silverado has always been a unique truck, in that it offers drivers various models, which vary in the power and performance department. The Silverado has always been the pickup truck in America that allowed drivers to choose the level of power they needed, without carrying around the extra weight of added power.
A Classic Rivalry Inspires Greatness
The rivalry between the Ford F-150 and the Chevrolet Silverado, goes back to when the two vehicles were first introduced. It's a rivalry that is almost as pervasive as the battle between the Cardinals and Wildcats. With both trucks created and manufactured here in the United States, it's a battle being waged here on home turf, and has many people choosing sides.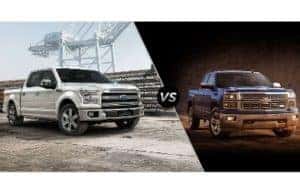 Whether you prefer your pickup truck to wear a bowtie, or a blue oval, is largely a personal decision. Whatever your preference is when it comes to purchasing a full-size pickup truck, this classic rivalry has truly inspired greatness over the years. Without such a close race for first place pickup in America, the Silverado and F-Series may be entirely different vehicles.
Ford and Chevrolet have not only heard the voices of consumers, they have responded. In a race for innovation, performance, and comfort, the F-Series and Silverado are truly close competitors.
So, you know the backstory. You have a minor glimpse into the on-going rivalry, and you probably have your pickup preference in mind already. But let's go a little further down this rabbit hole, and see just how closely the Silverado and F-Series come, in a side to side comparison.
Comparing What Matters Most
Those who are in the market for a pickup truck, usually have very particular specifications in mind. If you need a pickup truck that will perform on the job duties, you may consider towing and off-road capabilities the highest on your priority list. If you simply enjoy driving a pickup, and don't need high performance specs,  your priority may include comfort and amenities. Both the F-150 and the Chevy Silverado deliver in all categories – it comes down to personal preference and needs.
Engine Options – One of the most important aspects on a pickup truck for most consumers, the engine can determine a lot. Both the Silverado and F-150 come standard with a V6 engine. The F-150's 3.5-liter engine makes 283 horsepower, while the Silverado's V6 features a 4.3-liter engine with 285 horsepower. Those who desire even more power, can opt for the Silverado's 5.3-liter V8 for 355 horsepower, or the most powerful 6.2-liter V8 that boasts an impressive 420-horsepower. The F-150 mostly keeps up, with a V8 that makes 385 horsepower, and another V6 option that puts out 365 horsepower. But, try as it might – the F-150 simply cannot compete with the strong horsepower numbers on the Silverado. If power is important to you, the Silverado is the right choice.
Towing – Both pickup trucks deliver strong towing and payload ratings. The 2015 F-150 offers a maximum towing capacity of 12,200 pounds, and a maximum payload capacity of 3,300 pounds. The 2015 Silverado comes just shy of those numbers, with a total maximum towing rating of 12,000 pounds, and a payload capacity of 2,270 pounds. Ford may have a slight advantage in this category over the bowtie wearing pickup, but it's doubtful that the difference of 200 pounds really makes for much of a difference.
Safety – An important category for all drivers, the safety on both the Silverado and F-150 is what you would expect from a 2015 model year vehicle. The 2015 Silverado earned the coveted five-star safety rating from the National Highway Traffic Safety Administration. The 2014 F-150 performed well on the same government crash tests, but took home only a four-star rating. Both pickup trucks offer standard traction and stability control, anti-lock brakes, and side-curtain airbags.
Technology – In-vehicle technology has become as important as the vehicle itself. Offering the highest-level of connectivity, entertainment, and convenience features – both pickup trucks have the technology aspect covered. Again, it merely comes down to a matter of preference. The Chevy Silverado offers remote start, an 8-inch advanced color touchscreen display, MyLink infotainment system, hill-descent control, and a rear-seat Blu-Ray entertainment system. The F-150 has its fair share of technological offerings, including automatic high-beam control, power retractable running boards, and adaptive cruise control. While both trucks offer great technology, the F-150 seems to have a longer list of exclusive features, that are not options on the Silverado.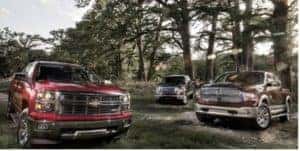 Comfort – Both the F-150 and Silverado were built for performance, but were also designed for comfort. The interior of both trucks offer leather upholstery, heated and cooled front seats, and a spacious rear seat for passengers and cargo. Comfort is a true tie between these two trucks, and again, comes down to a matter of preference.
Overall Value – The 2015 Ford F-150 has a starting MSRP of $25,800, while the 2015 Silverado 1500 starts at $26,170. Again, this difference is minor, and is unlikely to sway a buyer one way or the other. Both pickup trucks come with a 3-year/36,000 mile basic warranty. The F-150 also comes with a 5-year or 60,000 mile powertrain warranty. The Silverado beats out the F-150, offering buyers a 5-year or 100,000 mile powertrain warranty. That additional 40,000 mile allowance may be something to consider, especially if you expect to be spending a lot of time behind the wheel in the first five years.
Used Pickup Trucks Retain Value
If you are thinking about purchasing a pickup truck – whether it be a Silverado of an F-150 – consider purchasing a used version. Both trucks hold their overall value very well, and are great candidates for a pre-owned purchase.
If you are looking for a newer used truck, the 2014 Chevrolet Silverado is a great choice. The pickup truck was completely redesigned for that model year, and offers a great list of standard features, as well as new engine blocks. The entire frame was redesigned as well for this model year, comprised of high-strength steel created with advanced hyrdoforming technology. Buying a used Silverado is also a great way to get some extras, without paying the full price. Special edition models such as the Silverado HD, and the Silverado High Country, are both great options to purchase used.
When it comes to purchasing one of the bestselling, and most reliable pickup trucks in America, you can purchase a used version, knowing that it will hold its value for years to come. Peace of mind really doesn't get much better than that.