Find the Best Trucks at Dan Cummins Chevrolet
Whether you are thinking about buying a brand new Chevrolet, a brawny RAM hauler or a used, strong pickup, you always want a trusted partner by your side.
Since 1956, Dan Cummins has been America's most reliable auto dealer. We offer the best range of top-selling trucks. You could either select from a lineup of Chevy trucks or from heavy models like Ford F-150, or a Ram 1500.
Check out our one-stop dealership and choose from a number of trucking options for you and your family:

Chevrolet Colorado – The "Do-it-all" Truck
The 2019 Chevrolet Colorado is a perfect blend of definitive power and sophisticated technology.
It's ranked two in the midsize pickup category. The US News and World Report also scored it a stunning 8.4 out of 10.
The Chevrolet Colorado offers an impressive EPA-estimated 30 MPG. This makes the truck a perfect choice if you are rooting for fuel efficiency. A few attributes that make it a class-apart from others are the outstanding tow capacity of 7,700 pounds, the powerful 2.8 L turbo-diesel engine, a comfortable cabin, and smooth drivability.
In addition, the truck has an advanced infotainment interface. It also has an HD rearview camera and USB ports.
Therefore, the Chevrolet Colorado is your versatile, compact pickup. You can rely on it for hefty towing, daily carpooling for school, and those much desired weekend expeditions on the road.
Chevrolet Silverado 1500 LD – The "Robust and Dependable" Truck
The Chevrolet Silverado was titled the "Most Dependable Large Light Duty Pickup" by JD Power, in 2018. This model is built keeping strength and dexterity at its core. It comes with an indisputable 355 HP.
The Silverado has become the favorite choice of many who look for its long-haul towing capacity. This is due to the truck's state-of-the-art trailering technology complemented by the V8 engine.
The Silverado 1500 comes with advanced features. It has a user-friendly infotainment system and driver assistance features (rear cross traffic alert, blind spot monitoring, lane change alert, etc.).
It has a spacious cabin, head-up display, and more leg and shoulder room, which makes it comfortable and driver-friendly.
So, if you are looking for a capable, heavy-duty truck to beat extreme terrains with its powerful road presence, Silverado 1500 is a winner.

RAM 1500 – The "Number 1" Truck
The RAM 1500 has the 5.7L HEMI V8 engine that is redefining American motoring. The 2019 Ram 1500 ranks one in the full-size pickup trucks' category.
The RAM sets unparalleled benchmarks for durability, strength and, capability.
Whether you want a full-size pickup with standard or specific features, the RAM 1500 is bound fit all the expectations. It outperforms many of its competitors when it comes to long haul and offers an extremely comfortable ride.
The RAM 1500 comes with all the standard features and driver-assistance technologies such as:
Wireless device charging,
User friendly infotainment system,
Keyless entry
Surround view cameras
Blind spot monitoring
Automatic emergency braking
Also, the cabin of the truck is made with topnotch materials and has incredibly spacious seats. This ensures a cushiony and smooth ride.
Chevrolet Silverado 2500HD – The "Power-Packed" Truck
At Dan Cummins, customer satisfaction is of paramount importance to us. Be it the purchase of a new vehicle or that of a pre-owned, we aim to make every purchase a good experience.
Currently, we have a wide range of pre-owned Chevrolet Silverado 2500HD that may just suit your requirement based specifications.
The Chevrolet Silverado 2500 is the big brother of Silverado 1500. This a heavy duty pickup with an indomitable 445 HP and a thundering torque of 910 lbs/ft.
The truck's tow capacity is a mighty 14,800 pounds. It lets you do enormous amounts of heavy duty work without breaking a sweat.
Hence, it makes a perfect partner if you are out on the road frequently, battling rough and aggressive terrains.
Ford F-150 – The "Best Value for Money" Truck
The Ford F-150 is another capable full-size truck in the category. This has been the best-selling truck in its class for 27 consecutive years. It is the most profitable line of vehicles for the business.
You will find pre-owned models of this pickup at Dan Cummins at an affordable offer price.
The Ford F-150 has a maximum tow capacity of 9,900 pounds. It is built with the distinct traits of power, robustness and cargo capacity.
With a stunning grey exterior, this 4D crew cab comes with a 4-Speed Automatic with Overdrive.
Other key features that make this a good deal include:
Dual front impact airbags
Fully automatic headlights
Remote keyless entry
Panic alarm
The available models at Dan Cummins are affordable and provide a wide range of features no matter what you're looking for, thus providing you with the most useful pickup features in your truck.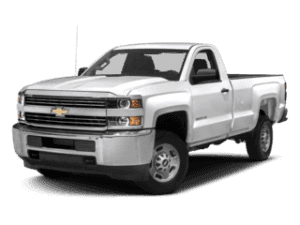 Chevrolet Silverado 3500 – The "Works as Hard as You Do" Truck
Chevrolet Silverado 3500 is one of the most powerful pickup trucks in the Silverado range. The Silverado 3500 has a long-lasting pickup that would stretch for miles. It has the  strength to tow up to an enormous 23,100 pounds and a brute torque of 910 lbs/ft.
Be it a heavy duty job or hauling a heavy load, Silverado's technology keeps you in control and lets you tow in confidence.
This truck comes with exceptional built-in smart features such as:
Adjust transmission shifts while towing or hauling heavy loads
Detecting a swaying trailer and automatically apply both trailer and vehicle breaks
The pick-up has a quiet cabin supported by inlaid sound-proofing materials and luxurious foam seats.
The Chevrolet Silverado 3500 offers you the best experience while working heavy duty or while lying back and relaxing.
Find a Huge Inventory of Chevy Trucks and More Only at Dan Cummins
Be it heavy duty towing or a weekend camping trip with your family, Dan Cummins understands you different needs. We have the best trucks from Chevrolet, Chevy Silverado, Ford and, Ram for you.
Are you planning to buy a pickup truck anytime soon? Call our staff at 859-987-4345 to learn more about the new and pre-owned models available in our inventory and choose the best out of the lot.

Find the Best Trucks at Dan Cummins Chevrolet | Dan Cummins Chevrolet & Buick – Houston, TX