Used Cars Under $10,000 in Lexington KY
Used Cars under $10000
With approximately 100 used cars under $10,000 Dan Cummins in Paris has been chosen as best place to shop for a car in Lexington KY by thousands of shoppers.  It's easy for a dealer to stock expensive new and used cars on their lots but the less expensive cars under $10,000 are really difficult to come by.  You deserve to find the right car at the right price for under $10000!
Demand for these automobiles is extremely high!  There are many reasons for this but the primary one is cost.  The lower the cost equals the lower the payment if you are financing the car.  If you are paying cash, well, the answer is obvious.  The biggest benefit to choosing Dan Cummins as the place to shop for this price range used car in Kentucky for under $10000 is our selection and volume.  In the under $10000 category there are approximately 100 vehicles in stock at all times at Dan Cummins in Paris!  This great selection gives you a lot of options in one location and therefore it also allows you the opportunity to find the right fit.
Used Trucks Under $10,000

Dan Cummins Chevrolet is the #1 selling Silverado dealer in the entire Southeastern United States!  That's right.  From Kentucky to Florida, we sell the most Silverados and therefore we always trade for the best used cars from our awesome customers.  They sell fast and although finding a used truck under $10,000 can be a challenge.  We always have some in stock.  You may also want to adjust the pricing filter once on our site to include trucks under $15,000 and trucks for sale under $20,000 to show you more options.  Trucks have traditionally held their value pretty well, especially 4-Wheel drive trucks and Diesel engine trucks due to their longevity.  Click the Shop Now link to the left and go exploring!
Used Cars Under $10,000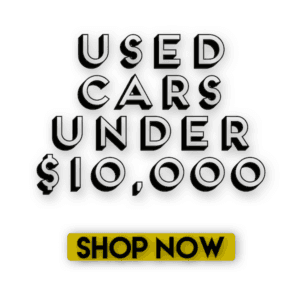 If you are looking for a used car under $10,000, there is no better place to shop than on our website.  You'll generally find Toyotas, Chevrolets, Fords, Hondas, Nissans and more.  For some shopping tips, you can keep reading this blog post below and I'll list for you the Top 5 Things to Look for on used cars under $10,000.  Our dealership is known for carrying a huge selection of used cars, used trucks and uses SUVs.  In fact, we've been nationally ranked in the top 10 for the most used cars sold by a franchised car dealer.  We're very proud of this and so appreciative to our many loyal customers. Click the Shop Now link to the right and go check out some of our used cars under $10,000!
Used SUVs Under $10,000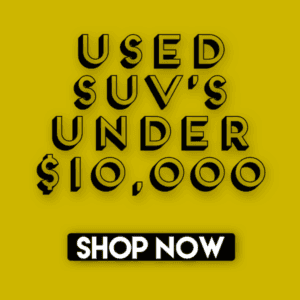 SUVs for sale under $10,000 are hot!  The popularity of the SUV has grown exponentially over recent years and being able to find one listed for sale under$10000 can be challenging.  We always stock plenty on our website www.dancummins.com and we sell them very quickly.  You'll find 4×4 SUVs under $10,000, 3rd row seat SUVs under $10,000 and even SUV's for sale under $10,000 that come with our Lifetime Powertrain Guarantee!  You can read more about this below in the blog post.  I recommend expanding your price search on the website filters to include SUV's for sale under $20,000 as well so you can compare the value factor and get the most bang for your buck.  Click the Shop Now link to the left to go exploring through our SUVs under $10,000!
Lifetime Powertrain Guarantee!
Finding a car that is under $10,000 can also be a risky investment.  However, at Dan Cummins in Kentucky, you can often find used cars, used trucks, and used SUVs that come with a Lifetime Powertrain Guarantee!  This Lifetime Powertrain covers the components that can cost up to $8,000 to repair such as the engine, transmission, drive axle, and transfer case.  Dan Cummins usually has a lot of cars that come with this guarantee.  You can search for these cars while on the website by filtering the mileage to under 80,000 miles.  Unless it's a supercharged car, an exotic, or a high-line vehicle such as BMW, Mercedes, and the like, you can find models that come with this coverage at no extra charge!
That makes buying a car for under $10,000 an even better deal!  This may be one of the reasons that the pre-owned vehicles on our lot sell so quickly.  But this isn't the only coverage that cars under 80,000 miles come with.  You'll also get a no-charge 3 month or 4,000 mile comprehensive warranty that covers items such as electrical, air conditioning, suspension, and much more.  Now that's bang for the buck!
Top 5 Things to Look for on Used Cars Under $10,000
There are many things to look for when shopping for a used vehicle in the $10,000 price range.  Some of the top things to look for are the car's ownership history, the service records, it's current condition, information about the selling dealer, and whether or not it's a good deal!  Some people only focus on the numbers which is a dangerous thing to do.  Buying the cheapest car within 500 miles seems like a win…until you find out it has been in 3 accidents, 2 crime scenes, and had the nick name Rusty Salvage by it's previous owner.  Let's take a closer look at the top five.
The History of the Car
Has this used car been wrecked?  How many previous owners did this car have?  What region of the US is the car from? Is the title clean (not rebuilt, salvage, flooded, etc)?  These are the basic questions you must have answers to before wasting your time on a vehicle that you consider being a good deal.  You can find answers to these questions by studying the CarFax Vehicle History Reports that are on each vehicle listing on the Dan Cummins website.  We provide this information free of charge and the report is the FULL History Report.  CarFax is the most trusted document that details used car history.  There are other companies that provide information such as AutoCheck but this is not as reputable or reliable method to do your homework.  Knowing the history of used cars under $10,000 is very important.
Service Records
Proof Proof Proof.  Seeing is believing and we want you to see as much evidence and documentation as possible to help you make the right decision about a car.  We inspect and service our vehicles and often times the previous owner has given us service records on the vehicle that that traded in to us.  This is really important on a used car under $10,000.  Usually these cars have been on the road for years and their maintenance history is vital to know.  If there is no additional documentation in the used car, then you can also consult the CarFax to see maintenance history.  Some cars will even be given the "Regular Oil Changes" badge on the vehicle history report.  If I'm spending under $10,000 for a car, this is info that I'd want to know!
Vehicle Condition
You can read a CarFax, examine the vehicle description online, study third party research on the model itself from websites like Edmunds but you'll never fully know the condition until you see it with your own eyes.  We'll take the time to show you all 100 used cars under $10,000 if you like.  They all are different.  Some may have been garage kept.  Many have never seen the inside of a garage.  Others may smell like the Louis Vuitton store and others may smell like smoke.  You won't know until you use your senses on the lot to discover what is right for you.  Mechanically, speaking, we service and recondition the cars to get them road ready, but there are many other things that you have to experience for yourself.  We are nothing more that guides at the dealership.  We're not interesting in selling you anything but rather we want to help guide you through the purchase process by providing you as much information as we can.  Should you want to get a second opinion and have the car inspected by a third party shop, we encourage it.  We even have a 72 Hour Exchange Promise to allow you to change your mind and pick a different vehicle that is right for you.  Always check the condition of used cars under $10,000.
The Seller
Reputation is everything and you should definitely research the seller.  What does the Better Business Bureau say about the seller?  Are they an A rated business?  I know that we are at Dan Cummins because we simply take care of our customers and handle our problems that arise.  Did you read the reviews on Google?  Our reviews aren't perfect but you can see that we strive to answer and own issues that arise.  Read through the reviews on our Dan Cummins Google Business Listing.  At the time this article was written we have over 2,600 Google Reviews at a 4.7 average Star Rating.  Many of these reviews come from people just like you looking for used cars under $10,000.  Also, ask your friends and family about us.  There are thousands of people who have "Driven to Paris for a Dan Cummins Deal" over the years.  They'll tell you we are the place to do business.
The Deal
Is this a good deal on this used car under $10,000?  Is this a bad deal on this used car under $10,000?  That is the main question you have to know before pulling the trigger.  The above 4 factors should definitely weigh in on your decision because an accident free car that is a 1-Owner which shows plenty of service records on the CarFax History Report is more valuable than the others.  A used car under $10000 being sold by a reputable dealer such as Dan Cummins Chevrolet Buick Chrysler Dodge Jeep Ram will give you even more peace of mind.  We'll show you the vehicle's book values provided by Kelly Blue Book, NADA, and any other source you wish.  We'll show you others listed for sale at different dealerships and provide the data that shows ours is priced right.  And most importantly we stand behind our products by even providing our Lifetime Powertrain Guarantee on all those that qualify.
Third Party Sites for used cars under $10,000  
There are many websites that allow you to search through thousands of used cars under $10,000 in one place.  Some of the leading sites are CarGurus, AutoTrader, and Cars.com.
AutoTrader has traditionally done an excellent job advertising used cars.  I can remember seeing the AutoTrader magazines in grocery stores and everywhere else you could imagine with pages and pages of used cars for sale.  There would be dealer ads, private party listings and more.  Most of the ads had one picture, a few words highlighting the vehicle, and a phone number.  My have things changed!  Now that magazine has become one of the world's most searched and visited websites.  There are thousands and thousands of vehicles listed for sale with tons of information that used to be invisible to the consumer.  It's easy to filter searches for the type of vehicle or the price range for which you are searching and this can save you time and frustration vs bouncing from dealer lot to dealer lot.  You'll see many of our used cars under $10,000 listed there for sale.
CarGurus is considered one of the newer places to search for used cars online.  There model shows vehicles with their own Instant Market Value or IMV .  You'll see "Great Deal, Good Deal, Fair Deal, or OverPriced" on each vehicle listing when enough market data is present.  Of course you may think that finding only the vehicles with Great deal is what you want but, that is not always the case.  You have to dig deeper into the data on the vehicle to still make sure it's a Great Deal.  I'll break this down for you in another blog post.  This website has climbed up in the search rankings on Google to become one of the most relevant search sites online today.  You'll also see all of our used cars under $10,000 on CarGurus and you'll see the Good Deal and Great Deal rating badges on them.
Cars.com has also reconfigured their site to give you the shopper tools to gauge value.  You'll also see "Great Deal, Good Deal" on the used car listings there.  They also do a pretty good job with giving you research tools to help you narrow down your vehicle choice.
We list all of our used cars on these sites as well as on our own website www.dancummins.com.  But what is great about our site is that you have full access to the vehicle's CarFax History report pricing information, and access to our staff via chat, phone, email, and text.  We always carry around 100 vehicles priced under $10,000 and these vehicles usually require a bit more research.  We're here to answer all of your questions and to show you as many vehicles as you wish to test.  They're all located in one place right here at Dan Cummins in Paris, KY! 
Thanks for reading this post about our Used Cars Under $10,000!
As always we thank you for taking the time to read this info about our used cars under $10,000.  Used car shopping carries with it an uneasy feeling for many people, but I can assure you that once you step into our showroom, those feelings will disappear.  It's our honor to assist you in finding the vehicle that YOU are looking for.  If we can be of assistance in any way please reach out to us.  You can contact us using the form below.
Thank you and we look forward to providing you as much value as we can.   We want to become your trusted source for used cars and new cars in whatever price range fits your needs.
Josh Cummins, owner