Why You Should Buy a Used Chevy Aveo
If you're looking for super affordable used cars in Lexington, KY, look no further than the Chevy Aveo.
Manufactured between 2004 and 2011, the Chevy Aveo is a steal of a small car, available either used or certified preowned.
A comfortable and capable car, the Chevy Aveo offers lots in a little package.
The Alert Aveo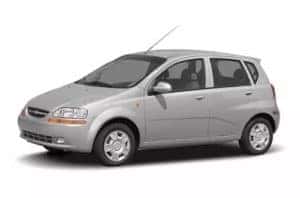 Although there is no exact or simple definition for the word "aveo," the original meaning suggests "to be happy" or "to be alert."
And the Chevy Aveo was just that. A happy and alert little car.
Available as either a four-door subcompact sedan or a five-door hatchback, called the Aveo 5, both cars, though small, offered ample room and storage.
The 2004-2008 Aveo model years featured cars equipped with a 1.6-liter inline four-cylinder, able to generate 103 horsepower with 107 lb.-ft. of torque.
In 2009, the Chevy Aveo got a power boost, albeit a tiny one, but still a boost is a boost. Jumping from 103 to 107 horsepower and 106 lb.-ft. of torque, Chevy upped the Aveo's power again in 2010 to 108 horsepower with 104 lb.-ft. of torque.
The 2010 model year also delivered a new manual transmission, which increased the Aveo's overall fuel efficiency to an EPA-estimated 27/35 miles per gallon.
No matter the year, all Chevy Aveos come standard with four-wheel antilock brakes, daytime running lamps, and dual front airbags.
In 2006, upgrades included side airbags, alloy wheels and cruise control.
If you're interested in purchasing a used Chevy Aveo, the 2006 model year is an ideal target for those enhancements in particular.
The best feature of the Aveos, besides their amazing affordability, is their abundant space for such a small car.
From the outside, they really can be deceiving as their interiors are far roomier than you would imagine.
Automotive reviewers were always quick to applaud the impressive headroom and legroom of the Aveos, not to mention the cargo space.
The front passenger seat in the sedan fully reclines, and the 60/40 split seats equals more cargo capacity, with the hatchback boasting 42 cubic feet.
When you choose an Aveo, you're choosing lots of space for a little sticker price.
Generally, drivers prefer the automatic transmission, but don't forget, the manual was designed for added fuel efficiency.
If you're comfortable driving a manual transmission, you'll eke even more affordability out of your Aveo with fewer stops at the pump.
Used and certified pre-owned Aveos can be found for as low as the three-thousand dollar range for the older models and only barely edge past the seven-thousand dollar mark for newer, 2011 models.
These cars are perfect transportation solutions if you're trying to get back on your feet financially, or better yet, if you need a safe and reliable car for your new teenage driver.
Aveos are not known for their speed or power, despite the little boosts they were given in the 2009 and 2010 model years. So, a used Chevy Aveo would make an outstanding starter car for young drivers, new to the road.
And with the selection of exterior colors, the Chevy Aveo is sure to offer a shade to suit your teen's personality.
The 2011 palette, for example, includes fun choices like: Black Granite Metallic, Bright Blue, Medium Gray, Silver Ice Metallic, Sport Red, Summer Yellow, Summit White, Victory Red, and Wintergreen.
Not only is the Chevy Aveo stylish, safe, and affordable, it's backed by Chevy's commitment to customer service and driver satisfaction.
You can purchase a used or certified pre-owned Chevy Aveo and enjoy the reliable Chevy basic warranty, which covers three-years or 36,000 miles, as well as the five-year or 100,000 miles covering the drivetrain.
But, if you are considering something newer, check out the 2012-2015 Chevy Sonics, which replaced the Aveos after they were discontinued in 2011.
Though you can still find plenty of Aveos at your local used car dealerships, sometimes it's nice to get with the time and explore a part of the Chevy evolution.
The Chevy Sonic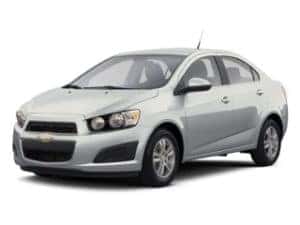 Touted by Chevy as "fun in overdrive," the Chevy Sonic was introduced in 2012 as the Chevy Aveo's replacement.
Among the leaders in the compact segment, the Chevy Sonic is a youthful, perky car with upgraded performance over the Aveo.
Similar to the Aveo, the Chevy Sonic comes in either a sedan or hatchback with standard features including an ECOTEC 1.8-liter inline four-cylinder engine, operated by a five-speed manual transmission, able to get 138 horsepower with 125 lb.-ft. of torque.
For extra engine power, Chevy offers the Sonic equipped with a 1.4-liter turbocharged engine, which can zip from zero to sixty miles per hour in under eight seconds.
On a single tank the Chevy Sonic can get up to 485 miles. That is some serious fuel economy in a tight-fisted punch.
Named one of the Ten Coolest Cars Under $18,000 by Kelley Blue Book in 2014, the new Chevy Sonic offers even more, while still maintaining its affordability.
The 2015 Chevy Sonic is a safe and dependable subcompact car, the first and only one in its class to come with ten standard airbags.
Earning 8.8 out of a possible 10 by Kelley Blue Book's Consumer Rating, the 2015 Chevy Sonic starts at MSRP of $14,245.
Available in seven trim levels, including the: LS Manual, the LS Automatic, the LT Manual, the LT Automatic, the LTZ Manual, the LTZ Automatic, and RS Manual, the Chevy Sonic can be further customized with more than forty accessory options.
Equipped with either fifteen or seventeen inch wheels, the current model year Chevy Sonic comes in eleven exterior colors: Blue Velvet Metallic, Red Hot, Bright Yellow, Silver Ice Metallic, Summit White, Ashen Gray Metallic, Mocha Bronze Metallic, Dragon Green Metallic, Black Granite Metallic, Crystal Red Tintcoat, or White Diamond Tricoat.
Connectivity is guaranteed for up to seven personal devices through the OnStar 4G LTE Wi-Fi system.
Chevrolet MyLink is also available in a seven-inch diagonal touchscreen with full color display, able to cast your infotainment preferences, like Sirius XM, and features Siri-Eyes Free technology and navigation.
Plenty of storage options make the Chevy Sonic sedan a winning car for road trips. The four-seater features storage in upper and lower glove boxes, holders for water bottles conveniently located in the front doors, and a 60/40 split folding rear seat.
Even better than the Honda Civic or Toyota Corolla, the Chevy Sonic boasts 14.9 cubic feet of trunk space.
Not to be outdone, it's sibling five-seater hatchback also comes equipped with a 60/40 split-folding rear seat and its 19 cubic feet of cargo space can be increased up to 47.7 cubic feet after the rear seats are folded down completely. There is even a hidden storage space in the cargo area.
Either of these Chevy models, the Aveo or Sonic, are excellent options, thanks to their affordability and fuel efficiency.
You can find plenty of used Chevy Aveos and pre-owned Chevy Sonics at your local Chevy dealership.
Get behind the wheel of these feisty, fun-sized Chevy cars and remember why driving is so exciting!