The Iconic 2022 Dodge Charger
If you are a muscle car enthusiast, you are definitely in luck when it comes to the Dodge lineup. With some of the most popular and iconic muscle cars on the market in their lineup, Dodge is a top brand for performance vehicles. But, with four vehicles in their performance lineup, how are you supposed to know which one is best for you? In this post, we'll detail one of the most popular Dodge vehicles – the Charger.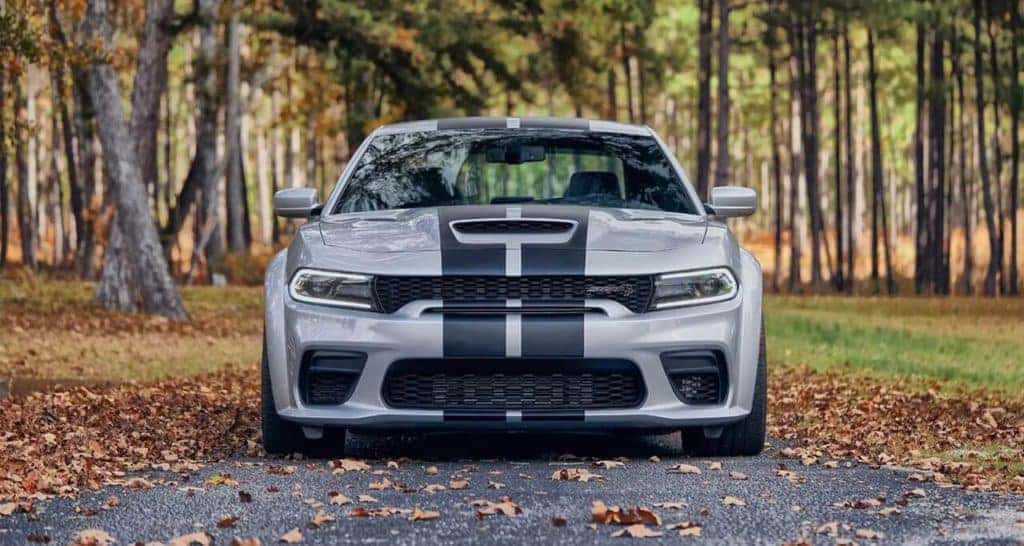 The Jaw-Dropping 2022 Charger
The 2022 Dodge Charger is a mecca of power. One of its trims, the SRT Hellcat Redeye Widebody, is the world's fastest and most powerful mass-produced sedan. But the records don't stop there – the Dodge SRT Hellcat Redeye Widebody is the quickest production Charger ever. To learn more about the powerful Charger keep reading.
Performance
The 2022 Dodge Charger is an icon. It has the highest top speed of any four-door mass-produced car. This is thanks to the Supercharged 6.2L HEMI High-Output SRT V8 engine. It's capable of a booming 797 horsepower and best-in-class 707 lb-ft of torque and has top-tier grip and braking.
For maximum straight-line and lateral grip, 20×11 inch Pirelli tires are offered on the Dodge Charger Scat Pack and standard on the SRT Hellcat and SRT Hellcat Redeye. Six-piston Brembo brakes and Adaptive Damping Suspension are standard on the SRT models and available on Scat Pack models to get the quickest possible stop.
There's a choice between four engines:
7L HEMI V8 Engine: Standard on the Dodge Charger R/T, the 5.7L HEMI gets up to 25 mph on the highway, 370 hp, and 395 lb.-ft of torque, plus standard MDS fuel-saver technology.
392 Hemi V8 Engine: Standard on the Dodge Charger Scat Pack, the 392 HEMI delivers naturally aspirated 485 hp, 475 lb.-ft of torque, and a 0-60 speed in 4 seconds. It also includes standard MDS Fuel Saver Technology.
7L HEMI V8 Engine: This engine gets up to 25 mpg on the highway, with up to 370 hp and 395 lb.-ft of torque. It comes standard on the Dodge Charger R/T and comes with standard MDS Fuel Saver Technology
6L Pentastar V6 Engine: When paired with the standard TorqueFlite eight-speed automatic transmission, the standard 292 hp 3.6L Pentastar V6 engine can get up to 30 highway mpg. The SXT AWD and GT models add eight hp to get up to 300 hp and 264 lb.-ft of torque.
Dodge describes the Challenger's brakes as "built for breakneck speeds." The Charger gives two options—the Four-Piston Brembo High-Performance Brakes or the Six-Piston Ultra High-Performance Brakes. You can also choose between red or black calipers on the four-piston Brembo Brake system, or from red, black, gunmetal, or orange on the six-piston Brembo Brake system.
Dodge also offers an array of cutting-edge performance technology on the Charger, including:
SRT Power Chiller: Diverts air conditioning from the interior cabin to a chiller unit, which is then directed to the heat exchangers in the supercharger.
Race Cooldown: This helps chill the supercharger air cooler down after the dragstrip. You just shut the engine off, and the system automatically runs the intercooler pump and radiator fan.
Line Lock: This holds the front brakes down so you can spin the rear tires.
Launch Control with Launch Assist: Allows you to set the RPM when you want to leap forward into first gear.
There is also a choice between four suspension options, all available to maximize the friction between the tires and the road. These are:
Performance Suspension: Includes springs, sway bars, and Bilstein high-performance shock absorbers. Lowering it half an inch works in tandem with steering calibrations for sportier handling and enhanced driving experience.
High-Performance Suspension: Builds on sport-tuned performance suspension with Bilstein high-performance shock absorbers for optimum balance, cornering ability, and steering responsiveness.
Widebody Competition Suspension: This suspension automatically adjusts, delivering a continuously smooth ride.
Adaptive Damping Suspension: This suspension includes the Three-Mode Active Damping System, allowing drivers to select different suspension tuning to cater to their ride preference, including Auto Mode, Sport Mode, and Track Mode.
You can control your engine's performance easily on the interior with Dodge Performance Pages, which are standard on the Dodge Charger SRT Hellcat Widebody and SRT Hellcat Redeye Widebody. There is also an electronic T-Shifter and steering wheel-mounted paddle shifters.
Exterior
The 2022 Dodge Charger was designed to make a lasting impression.
The SRT Hellcat Redeye Widebody comes equipped with bold, massive lightweight carbon black 20×11-inch aluminum wheels, garnering attention wherever you drive.
The Dodge Charger SRT Hellcat Redeye Widebody hood is not only mean-looking, but it also gives you better performance with a functional air inlet and dual-heat extractors for efficient airflow and removal of heat from the engine. The Widebody has a fierce look, with an exclusive fender, menacing front grille, and decklid badges.
Each trim has its distinctive features. These include:
Redeye: Custom black chrome badges
Hellcat: SRT grille pairs perfectly with the style of the Hellcat fender and SRT decklid badges.
Scat Pack: stylized with Scat Pack grille, decklid, and 392 HEMI fender badges to show the heritage-inspired 392 cubic-inch engine
R/T: designed with a custom R/T HEMI fender badge and decklid badges.
If you want to stand out even more, there are a variety of racing stripes you can choose from – carbon, gunmetal, silver, red, and blue.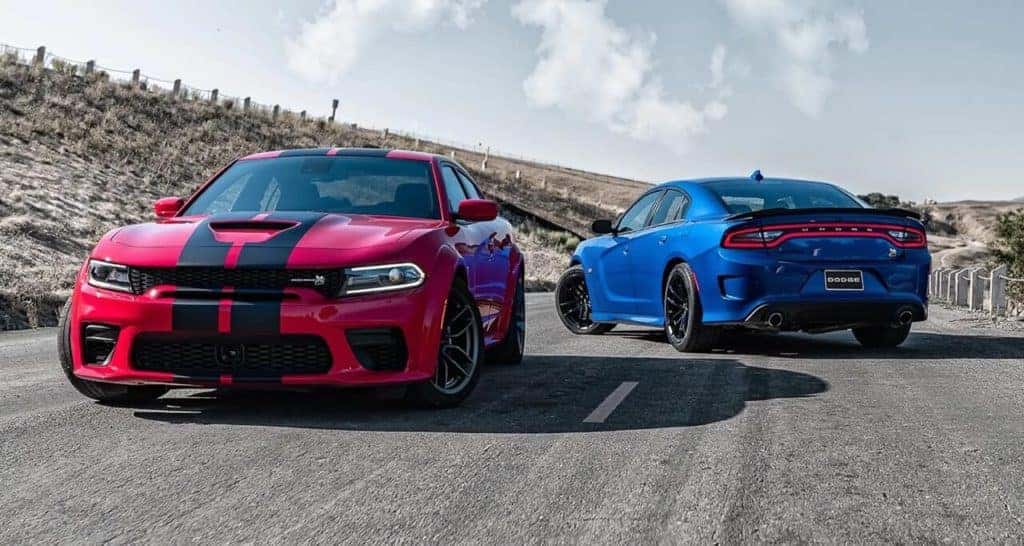 Interior
The awesome features continue into the interior to give you an enhanced driving experience.
The 7-inch driver information cluster display gives you instant information on performance, navigation, and vehicle stats. You can easily customize the display at any time with steering wheel-mounted controls.
When you are ready to go, you can start the engine by stepping on the brakes and pressing the Start/Stop button.
The Charger has a customizable 8.4-inch touchscreen with Uconnect that offers Apple CarPlay and Android Auto compatibility to let you have easy access to directions, hands-free calls, music, messages, and voice command. You can access the updated SiriusXM Guardian, which includes Roadside Assistance, Remote Vehicle Start, and more.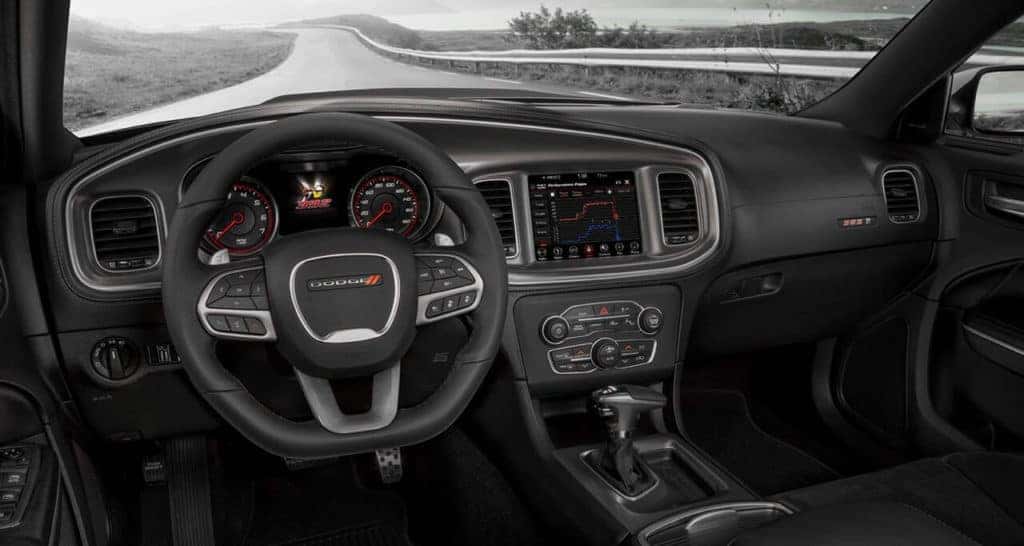 If you want even more features, you can opt to get the available Plus group, which adds exciting features such as a sport suspension and premium Alpine speakers. On the GT RWD model, the package also adds 20×8-inch satin carbon wheels and Nappa leather-trimmed performance seats. Choose the SXT AWD model and you'll also enjoy a rear body-color spoiler and Nappa leather-trimmed sport seats.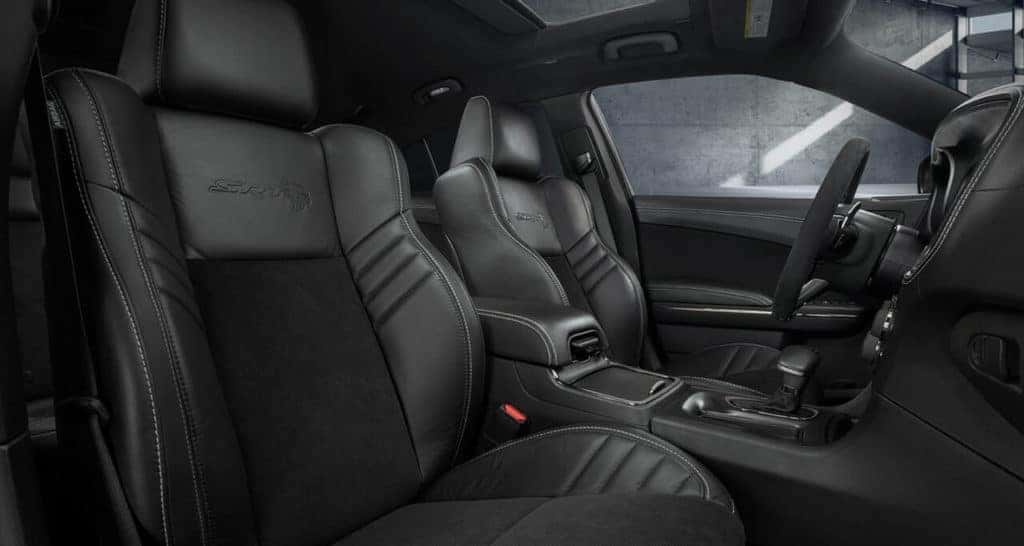 You can stay cool in the summer and warm in the winter with heated and ventilated front seats. Heated rear seats are also available on certain models. You can adjust the temperature in the cabin to your liking with Dual-Zone Automatic Temperature Control.
Safety
There is a plethora of features to keep you safe in the Charger while you're racing down the strip.
The Charger offers available Automatic High-Beam Headlamps, which switch automatically from high- to low-beam when they detect ambient light from oncoming traffic. It also has an available Blind Spot Monitoring System, which sends an alert every time another vehicle enters your blind spot zone. The Charger also has available Adaptive Cruise Control and Full-Speed Forward Collision Warnings with Active Braking.
It's easy to park the Charger – just use the ParkView Rear Back-Up Camera, with gridlines to assist you in and out of tight spots. There's also a variety of brake support – the Charger offers advanced brake assist, ready alert braking, and rain brake support.
Additional safety features include:
All-speed traction control: Helps maintain traction and stability by applying brake pressure to slipping wheels and reducing engine power when necessary to help tires regain traction.
Hill Start Assist: When on a steep incline, Hill Start Assist will maintain brake pressure for a short period between the release of the brake pedal and the push of the accelerator, to help prevent the vehicle from rolling backward.
Electronic Stability Control: helps you maintain directional control whenever needed.
Available Adaptive Cruise Control with Stop: automatically adjusts your vehicle's cruising speed to help maintain your set distance using throttle control and limited braking.
Where Can I Buy a 2022 Dodge Charger?
If you're interested in purchasing an iconic Dodge Charger, look no further than Dan Cummins CDJR of Paris or Georgetown, Kentucky. If you visit us, you will get top-tier service and a great deal. The proof is in the numbers – just check out our 10,000+ customer reviews. Call us today at (877) 661-2805 or contact us here if you're interested in purchasing a 2022 Charger.