What Makes 2020 Chevrolet Tahoe One of the Best Full-Size SUVs
Finding an excellent car that fulfills the requirement of a growing family might be a tad perplexing. Also, it gets tougher if you want to buy a high-performance vehicle. But we at Dan Cummins believe that the fantastic 2020 Chevy Tahoe might be the best choice for you.
This new arrival makes for a perfect companion that cares about your family's needs in your busy lifestyle. Chevrolet Tahoe not only offers a comfortable interior and spacious cargo storage, but it also has powerful towing and hauling capabilities.
With a stunning design, robust engine, and up to date technology, it is no wonder that the Tahoe comes second in the top line of the best full-size SUVs.
So, take your friends and family along for long drives and go off the beaten paths – for this massive car has a seating capacity for up to nine passengers.

As Chevy dealers in Lexington, KY, we have a wide selection of Chevy models.
Chevrolet Tahoe: Among the Best Full-Size SUVs
There's got to be something about the Tahoe that makes it the people's favorite. Chevy lovers agree that with every model year, the Tahoe keeps getting better.
Let us see below the outstanding features of 2020 Tahoe for sale we have at Dan Cummins that let you love every moment of your ride.
---
"2020 Tahoe is the #2 car in best full-size SUVs."
---
Engine and Gas Mileage
Two engine options come with the Tahoe: the standard 5.3L V8 and a stronger 6.2L V8. The 5.3L V8 engine outputs a 355 horsepower and is paired with a 6-speed automatic transmission that offers smooth-shifting and ride handling.
However, you may need to push the gas pedal to achieve quicker acceleration on the highway. This problem disappears with the 6.2L V8 engine and a 10-speed automatic transmission that comes with it, providing a 420 hp.
In terms of fuel economy, the base V8 engine gives 15 mpg, and the stronger V8 engine delivers 14 mpg in the city. On the highway, it is 22 mpg for both.
Older Chevy models also offer fuel economy and smooth rides close to the 2020 Tahoe. If you want to check out used cars in Lexington, KY, visit the Dan Cummins website.
Powerful SUV
Equipped with the powerful V8 engine, the Chevy Tahoe has enough horsepower to handle all your towing needs. Depending on the trim and packages, you will be able to tow a maximum of 8,600 pounds.
---
"Test drive the Tahoe today and become the owner of your dream car!"
---
Handling and Braking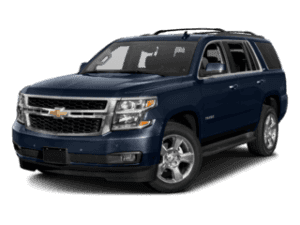 The Tahoe looks pretty impressive, with its colossal size and specifications. Although the car is massive, it is easy to maneuver with precise steering and stable handling.
Even on a drive over rough roads, the ride remains smooth, courtesy of the Magnetic Ride Control adaptive suspension system available in the Premier trims.
Contact your Chevy dealers in Lexington, KY to know more about the available trim levels and packages.
Great Interior
This magnificent beast offers a lot of space to store all your cargo seamlessly. In addition, the seating arrangement comes in a great configuration that can comfortably fit in nine passengers. Besides, the head and legroom provided in the 2020 Chevy Tahoe brag of the comfortable ride experience.
Throughout the cabin, you will find storage space for small items. Ventilated front bucket seats and power-release on the second-row seats are available. You can fold down flat the third-row seats if there is a need for more space.
---
"For all the travel adventures that await you, the Tahoe is your perfect partner."
---
Adventure Ahead
Under all that refined interior, cushy seats, and stylish design, the 2020 Tahoe is a real treat to drive off-road.
The base 5.3 L V8 engine is still mighty and formidable, which delivers ample power to the 4-Wheel Drive system. Furthermore, Magnetic Ride Control assists you on your adventure. Added to this, the Tahoe for sale has options in technology and off-road enhancements, which give you a 4X4 that is up for anything.
Enjoy your ride in complete serenity as you block the outside world with triple seals, an inlaid door design, and acoustic-laminated windshield.
Safety and Tech
Standard Safety Equipment:
Rear and front parking sensors
Rearview camera
Rear cross-traffic alert
Forward collision warning
Forward automatic emergency braking
Teen Driver system – monitors the driving performance of teen drivers, set the speed and audio volume
Adaptive cruise control
Automatic high-beam headlights
Blind-spot monitoring
Lane departure warning
Technical and Entertainment:
Apple CarPlay and Android Auto
MyChevrolet system
13 charging options – 6 USB ports and wireless charging
Customizable Driver Information Center
8-inch touch-screen display and phone integration
Dan Cummins Has the Best Collection of Used Cars in Lexington, KY
Buying a brand-new Chevy Tahoe may not be a feasible option for you at the moment. Then look into the older models of Tahoes that have identical features. Dan Cummins Chevrolet & Buick can help you choose the best Tahoe for sale.
Call us at 859-987-4345 or click here to know more.

What Makes 2020 Chevrolet Tahoe One of the Best Full-Size SUVs | Dan Cummins Chevrolet & Buick – Paris, KY