The Chevy Truck Legends – What You Need to Know
Chevy loyalists: presenting the Chevrolet Truck Legends program – an initiative started by the company in 2016 to recognize long-standing owners of Chevy pickup trucks.
As a proud Chevrolet truck owner for many years you may apply for this program. Or, even you are a Chevy lover who recently bought a Silverado for sale, then you may be eligible to apply.
Read on below for more details.
Chevrolet Truck Legends
In 2016, as part of its 100th anniversary of pickup trucks, Chevrolet launched the Truck Legends program. They invited hardcore Chevy fans to join the program and recognized the owners who stayed loyal to the brand through the decades.
Whether you favor the square-bodied older trucks or the newer Chevy trucks for sale, you are certainly not alone.
Register here!
---
"Proudly flaunt your mighty Chevy hauler to a massive group of Chevy fans!"
---
Eligibility
Most people got Chevy trucks handed down to them through the generations. Some truckers have bought a new Chevy Silverado 1500 for sale. Either way, the Truck Legends club is open to all loyal Chevy fans in the country.
To Qualify:
You should currently own a new or old Chevy truck with a minimum odometer reading of 100,000. (or)
You must have leased or purchased two or more brand new Chevy trucks in your lifetime.
Eligible Models:
Avalanche
Suburban
Silverado (including past C/K trucks)
Silverado HD (2500 or 3500)
Colorado (including past S-10)
Three Years of Chevy Truck Legends Program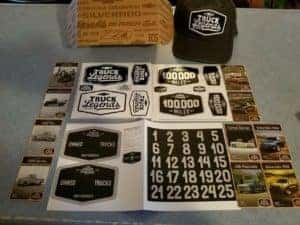 Although in the first year, the affair was limited to the State of Texas, since 2017, the Legends program is available nationwide.
2016
Chevrolet's Silverado marketing team made police officer Lonzo Anderson of Arlington became the first official Chevy Truck Legend of Texas. His 16-year-old Silverado, with its original engine, has clocked over 375,000 miles on the odometer.
2017
More than 5,400 legendary Chevy owners have registered by 2017. Chevrolet has invited them to the Texas Motor Speedway to experience a once-in-a-lifetime opportunity. Members got exclusive looks at the multiple special edition trucks that debuted.
2018
Chevy legends members got exclusive invitations and all-expenses-paid trips to Jackson Hole, Wyoming. GM invited 30 loyal Chevy customers and grassroots brand ambassadors to test drive the new 2019 Chevy Silverado in the wilderness of Wyoming.
Benefits
On signing up, all Chevy Legends get a welcome kit with exclusive merchandise such as a Truck Legends hat and decals mentioning the number of vehicles they own or the mileage.
Additional exclusive benefits may include:
Display of your photos in the member gallery
Special invites to Chevy events like NASCAR or Major League Baseball
Exclusive news stories and updates from Chevy
Invitations to Chevy race events
Complimentary passes to auto shows
Discounts on Chevy merchandise and accessories
---
"For many people, driving their parents' Chevy truck for the first time is an unforgettable memory."
---
What Else Should You Know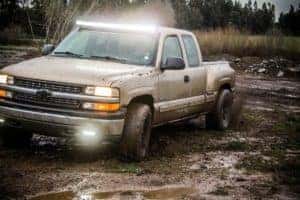 Here are a few frequently asked questions, answered for you:
Can I still become a member if I am not the original owner of my Chevy Tahoe that shows more than 100,000 miles?
You don't need to be the original owner. You may buy a used Chevrolet truck, get it registered in your name, and join Chevy Truck Legends.
So, if you have purchased a Tahoe among the best-used cars in Lexington, KY, and have reached the 100,000-mile mark, you are eligible to apply.
How to know if my registration has gone through the system?
You will hear from the Chevy Trucks Legends team, who will confirm your registration and approval. If you have not received any email message, you can contact them and verify your successful submission.
What information will show up in my public profile?
By making your profile public, you agree to share your details like your name, photo, city, state, the number of trucks owned, truck model, mileage, model year, story and title.
---
"If you pass the eligibility criteria, joining the program is free of cost."
---
Buy the Best Chevy Trucks at Dan Cummins Chevrolet & Buick, Your Trusted Chevy Dealer in Lexington, KY
You are in love with the new Chevrolet Silverado and are looking for the best dealer of Chevy trucks for sale. Contact Dan Cummins for the best used or new vehicles and enter the Chevy Trucks Legends program. Call us at 859-987-4345 to know more!

The Chevy Truck Legends – What You Need to Know | Dan Cummins Chevrolet & Buick – Lexington, KY