Top 5 Things to do in Lexington, KY, This Summer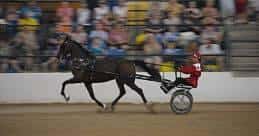 This summer, Lexington has plenty of sweet events all around town, like lighthearted plays, patriotic cookouts, and exciting horse riding events. Here are five examples of memorable summer gatherings you won't want to miss.
Lakeside Live
Lakeside Live is a recurring event every Friday and Saturday from May 5 to September 30. Set on the lovely covered dock at the Mall on Lexington Green, visitors can hang out around the fire pit, grab dinner at the mall's restaurants, go shopping, and more while hanging out and enjoying the tunes.
Admission to Lakeside Live is free, and each night of music takes place from 7:00 p.m. to 10:00 p.m. Pets and lawn chairs are welcome in the outdoor areas.
4th of July Campout
Looking for something fun to do before the 4th of July that doesn't cover the big day itself? At the Kentucky Horse Park, visitors can hang out and cool off with swimming and ice cream. There will also be movies, pony rides, and more spread out over five days before the 4th of July.
The 4th of July Campout takes place from Wednesday, June 28 to Sunday, July 2, starting at 8:00 a.m. each day.
Drinking Habits
Pioneer Playhouse hosts this recurring laugh riot of a stage play with two nuns from the Sisters of Perpetual Sewing secretly making wine to keep the convent in operation. The strict Mother Superior and several dogged reporters could catch them any day, and the reporters are their ex-fiancées.
This event plays every Tuesday through Saturday from June 27 to July 8. "Drinking Habits" is available as a dinner and show event for $17 per person, or $10 per person for the show only. Pioneer Playhouse is scheduling the event on the outdoor stage, but it will be moved to indoors if it rains. Dinner starts at 7:30 p.m. and the show begins at 8:30 p.m.
Cross Country Schooling
Would you like to learn how to go through an official obstacle course on horseback? On Saturday, July 1, riders can develop or sharpen their skills with different courses from beginner to expert level. All have obstacle arrangements and combinations similar to what professionals encounter.
Like the 4th of July Campout, Cross Country Schooling is hosted by Kentucky Horse Park. Admission for each day is $35, and proceeds go toward supporting the Kentucky Horse Park's facilities and operation.
Baskerville: A Sherlock Holmes Mystery
Fun, intellectual, and hilarious, this play turns Arther Conan Doyle's Sherlock Holmes tale, "The Hound of the Baskervilles," into an adventure that may kill you with laughter. This take on Sherlock Holmes is light enough for kids 12 and under, but witty enough to get the adults cracking up as well.
This outdoor play is also hosted by Pioneer Playhouse and plays every Tuesday through Saturday. Admission prices for dinner and show are $32, while show-only tickets are $18. Times are identical to those of "Drinking Habits."
Be sure to mark your calendar with these events!