Here are Some of the Best Corvettes of All Time
Since its creation in 1953, the Corvette has been an iconic symbol of American culture. Now in its seventh generation, the Chevy Corvette is synonymous with a smooth ride and a carefree lifestyle. Of course, not all used corvettes for sale in KY are of the same caliber, which is why this handy list of the best corvettes can help guide a buyer through the many available models.
C7 Corvette Z06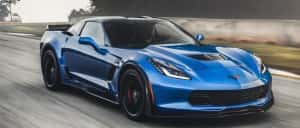 This is a car that people rave about driving. Once you step behind the wheel, you gain access to 650 horsepower and 650 pounds of torque. Powered off a 1.7-liter Eaton supercharger, this car truly makes every trip about the journey because you will never want to stop driving it. The feel of the car under your fingertips is enough to make its purchase worthwhile. It's also one of the most affordable models of Corvette for sale in Lexington, KY, which earns it a second look if not a third.
---
"Corvette C7 Zo6 is run on the powerful 1.7-liter Eaton supercharger for reliable performance."
---
2016 Stingray Z51
When the Stingray was first introduced in 1967, it was not subtle. In fact, it was an aggressive piece of solid metal that needed attention. Almost 60 years later you could say the same thing about the 2016 Stringray Z51. Not only is it sleek and muscular, but the car comes loaded with plenty of modern amenities such as Bluetooth, a soft top, touch screen infotainment center, and driver seat memory built into the seats. The 2016 Stingray Z51 is one used Corvette designed with luxury in mind.
1967 Corvette String Ray L88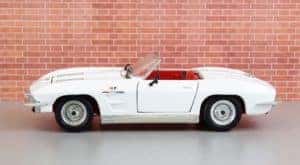 On the other hand, if you care more about the trim than the modern treats, it may be worth it look for the premiere model. A little warning though, there were only 20 Corvette Stingrays built-in 1967, so expect to spend some real money for one. While the car is a bit of a unicorn, it's a brilliant muscle car that is rated 430hp but capable of performing close to 550hp.
In layman's terms, this car could travel about a quarter-mile in under 11 seconds, making it an everyday vehicle designed for those who envision life on the race track. So, check out the best collection of used Corvettes for sale in KY to find your Stingray L88.
1970 Corvette LT1
Speaking of muscle cars, the used Corvette took a page out of Chevy V8 engine catalog in 1970. The engine was built out an aluminum intake complemented by 800-cfm carb and forged engine internals. It topped off the inside imagery with solid lifters that could be heard each time you pressed the gas and revved the car. The responsive LT1 sports an 11.0:1 compression ratio and was rated 370hp, making it one of the last Corvettes capable of reaching high speeds as the company slowly scaled back for the next few decades.
1987 Chevrolet Corvette

One of the more affordable used corvettes for sale in KY is the 1987 Chevrolet Corvette. Don't let its simple body fool you, as it still came loaded with a removable roof and power windows. With a 5.7L engine onboard, the Corvette is still capable of reaching genuine speeds.
It is the direct derivative of the 1984 model, which is the first of its generation and is a coupe that is capable of withstanding quite a bit of stress.
---
"1987 Corvette can reach genuine speed with a 5.7L engine."
---
2001-2004 Corvette Z06
This generation of Corvettes represents a return to performance, and that allows drivers of these used Corvettes for sale in KY to feel the engine under their feet. The car is still light-weight like it's late 90's predecessors, but is rated 385hp and carries 385-pound feet of torque. The later models even increased upwards of 405hp and had extra features built-in such as titanium exhausts and short-ratio transmissions.
Dan Cummins is the Dealer to Buy Used Corvettes for Sale in KY
For any new or used Corvette purchase, visit Dan Cummins Chevrolet Buick today! We offer a wide selection of cars for all your needs! Be at ease when purchasing a vehicle from us! We have a smooth and easy process for all your vehicle needs! Call us today at (859) 987-4345.

Here are Some of the Best Corvettes of All Time| Dan Cummins Chevrolet & Buick – Lexington, KY